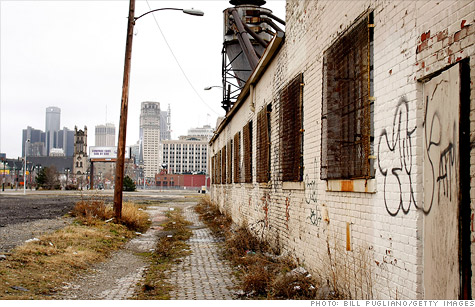 A declining tax base has left Detroit in a deep fiscal hole and at risk of a state takeover.
NEW YORK (CNNMoney) -- It's crunch time for Detroit.
City and state officials are facing a Thursday deadline to save the city from the threat of looming financial insolvency or a takeover of city government by Michigan.
Fierce opposition from unions -- in a city that remains a bastion of labor power -- has so far stymied efforts to pass a rescue package.
A deal backed by Mayor Dave Bing and Michigan Gov. Rick Snyder, a Republican, would grant the city the power to void contracts and slash costs but not provide state funding or loans to bail the city out of its financial problems.
Without city council agreement on that deal, Snyder can by law appoint an "emergency manager" who will assume the powers of the mayor and council to run day-to-day operations. He has until Thursday to take such action.
The city council is under pressure from the public and city unions to reject the deal with the state. At the same time, it would lose its powers if Snyder goes ahead and names an emergency manager.
The council was meeting again Wednesday. Earlier in the week, the council moved to double the city's corporate income tax to 2% as a way to raise badly-needed revenue.
Years of decline in population and businesses and a shrinking of the tax base have pushed Detroit into a deep financial hole despite a recent resurgence in the U.S. auto industry.
Without more cost cutting, the city won't be able to pay its bills come June. An estimate in January, the most recently available, was that the city would be down to $20.9 million in the bank by the end of this week.
An emergency manager would have authority to void contracts with both unions and vendors. He or she could also sell off various city assets, from the water department to valuable art in the city's museum.
As the debates, negotiations and lawsuits raged this week, they did so without Bing, who was recently released from the hospital after serious intestinal surgery and won't return to work for two weeks. Both Bing and Snyder say they want to avoid a state takeover, which in itself could be the first step toward the largest municipal bankruptcy in the nation's history.
While Detroit's own finances continue to struggle, the U.S. automakers based in or near the city have enjoyed a financial resurgence.
General Motors (GM, Fortune 500) reported a record profit in 2011. And a pick-up in auto sales and hiring has led to a nearly two-point drop in Michigan's unemployment over the last 12 months, the biggest improvement of any state.