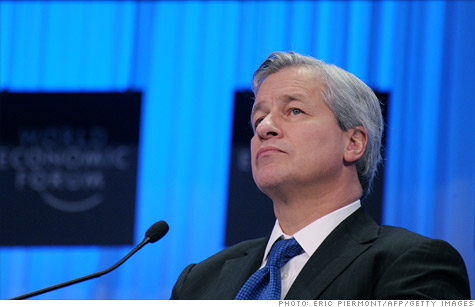 JPMorgan Chase CEO Jamie Dimon is not a fan of Washington -- at the moment.
NEW YORK (CNNMoney) -- JPMorgan Chase CEO Jamie Dimon defended his bank's lobbying practices on Wednesday, writing in his annual letter to shareholders that the firm's activities are wholly appropriate and that ham-handed government officials are slowing down the recovery.
Dimon said it is JPMorgan's responsibility to "stay actively engaged" in "policy debates that will affect our company" and that doing so is a "constitutional right."
"You read constantly that banks are lobbying regulators and elected officials as if this is inappropriate," Dimon wrote. "We don't look at it that way."
"It is vital for officials and regulators to have input from people within our businesses who understand the intricacies of how financial markets operate and the consequences of certain policy decisions," Dimon said.
According to the Center for Responsive Politics, a group that tracks lobbying expenditures, JPMorgan (JPM, Fortune 500) spent more than $7.5 million on lobbying in 2011.
That's just a couple hundred thousand less than Wells Fargo (WFC, Fortune 500), but about $2.5 million more than Citigroup (C, Fortune 500), and $4.4 million more than Bank of America (BAC, Fortune 500), which spent $3.2 million on lobbying.
In total, the broader coalition of commercial banks spent just over $60 million on lobbying in 2011. Companies in other sectors, like General Electric (GE, Fortune 500), Verizon (VZ, Fortune 500) and Boeing (BA, Fortune 500), spent far more.
Dimon said that the negative connotations associated with lobbying shouldn't apply, and that his firm is often solicited by government officials for advice and consultation.
"Our input," Dimon wrote, "as often as not, is at the request of government officials who want to draw upon the expertise of our executives who work in the markets every day."
It's no secret that bank lobbyists have flooded the hallways of the Capitol in recent years as they seek to influence the torrent of rules and regulations that Congress and government agencies are working to implement in the wake of the financial crisis.
Dimon is no fan of the way rules are being written.
"We have hundreds of rules, many of which are uncoordinated and inconsistent with each other," he wrote. "While legislation obviously is political, we now have allowed regulation to become politicized, which we believe will likely lead to some bad outcomes."
Dimon reserved special ire for the so-called Volcker Rule, the part of the Dodd-Frank financial reform law intended to force banks out of proprietary trading.
Dimon said the proposed regulations are of "mind-numbing complexity" and that "even senior regulators now recognize that the current proposed rules are unworkable and will be impossible to implement."
Dimon's larger point, however, is that lawmakers and regulators are producing bad policy.
He specifically cited the debt ceiling fiasco as an example of a policy that "made the recovery worse than it otherwise would have been."
"When economists 20 years from now write the book on the recovery," Dimon said, "it may well be entitled, 'It Could Have Been Much Better.'"