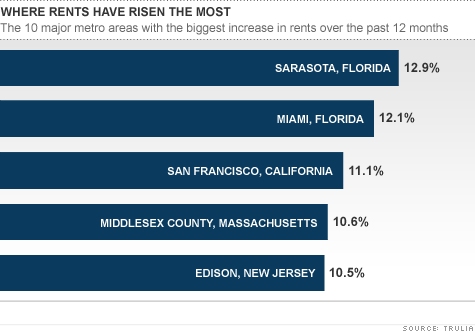 "Buying a home is more affordable than renting now in almost every part of the United States," said Jed Kolko, chief economist for Trulia.
NEW YORK (CNNMoney) -- Renting used to be cheaper than buying. But in many U.S. cities that's no longer the case, as rents continue to climb and home prices stagnate.
While asking prices for homes declined 0.7% over the past 12 months through March, rents rose 5%, according to a report released Thursday by real estate listing site Trulia.
The median rent for all types of rental homes hit $1,350 a month in March, up from a median of $1,285 a month 12 months ago, Trulia reported.
"Buying a home is more affordable than renting now in almost every part of the United States," said Jed Kolko, chief economist for Trulia.
Several metro areas recorded double-digit percentage increases in rental rates.
In Sarasota, Fla., the average rent jumped 12.9% year-over-year, the biggest increase of any of the 100 largest metro areas Trulia surveyed. Miami and San Francisco saw the next biggest increases, with rent hikes of 12.1% and 11.1%, respectively.
The metro areas that sustained the highest rent increases were a decidedly mixed bag, but obviously shared one factor: rising demand for a limited supply of rental units.
The national vacancy rate for apartments fell 0.3 percentage points during the first quarter to 4.9%, its lowest point since late 2001, according to a separate report from Reis Inc., a real estate research firm. With such limited availability, it has put pressure on rentals of all types.
In cities like Miami that were hit hard by the housing bust and recorded a high number of foreclosures, all of the displaced residents have to live somewhere.
"A lot of people who were owners lost their homes in the bust in these places," said Kolko. Many of them turned to the rental market, boosting demand and driving up rents, he said.
Other cities have put constraints on the construction of new multi-family housing, thereby limiting supply. For example, in San Francisco, where the median rent is a whopping $2,625, there are few tracts of land available to develop, raising demand for housing and pushing rents there higher.
Several Rust-Belt cities also saw large rent increases in the past year, including Indianapolis, where rents went up 9.7%, and Columbus, Ohio, where they jumped 9.3%.
These cities have seen big gains in the industrial sector, which have led to a growing number of jobs and higher rents, said Kolko. As hiring levels off, he does not expect the big rent increases to continue.
Meanwhile, asking prices for homes nationwide crept lower over the past 12 months, according to Trulia.
That, along with record low mortgage rates, has made buying a home more affordable than it's ever been and a bargain compared to renting. However, many Americans will not be able to seize this historic opportunity to become homeowners, said Kolko.
Unemployed, too broke to come up with a down payment or with credit scores too battered to qualify for a mortgage, many people simply cannot qualify to buy a home right now, according to Kolko
With fewer consumers able to make the leap into homeownership, rents could continue to climb higher, he said.