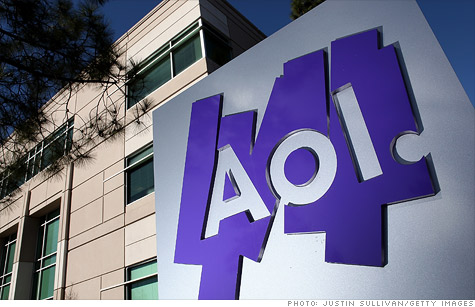 AOL's stock spiked after company agrees to sell patents to Microsoft.
NEW YORK (CNNMoney) -- AOL said early Monday that it is selling hundreds of patents to Microsoft Corp. for more than $1 billion. The news sent shares of AOL surging.
AOL (AOL) agreed to sell more than 800 patents to Microsoft (MSFT, Fortune 500) for $1.1 billion in cash. AOL also granted a non-exclusive license to Microsoft for the rest of its patents.
Shares of AOL spiked 43% to close at $26.40.
The deal represents a coup for basically everyone not named Google (GOOG, Fortune 500).
AOL walks away with some much-needed cash for patents it was no longer using. Microsoft gets to take home some of the first social networking patents ever granted, and Facebook -- a Microsoft partner -- is insulated from the legal attacks those patents could have aided had they ended up in enemy hands.
"Besides the two deal partners and shareholders, Facebook is the number-one beneficiary," said Florian Mueller, an independent intellectual property analyst and consultant. "An independent AOL or any other buyer would have picked Facebook as the first target, but Microsoft is a friend. Google once again missed out on a unique opportunity."
Google has made "social" its battle cry this year, putting a significant amount of engineering muscle behind its fledgling Google+ network. The company is in the midst of acquiring Motorola Mobility (MMI), which has a robust patent portfolio that could be used to protect Android -- but probably won't be of much help defending Google's social efforts.
A source with knowledge of the bidding for AOL's patents said Google did not participate in the auction. A spokesman for Google declined to comment.
Yahoo (YHOO, Fortune 500) or Facebook would have been other likely buyers, but both are in unique situations that probably curbed their abilities to pay what Microsoft did for AOL's patent portfolio.
Yahoo is in the middle of a complete overhaul, while Facebook is in the process of offering its stock to the public. It's probably not looking to deplete its $3.9 billion cash stash on major acquisitions right now.
Mueller, who counts Microsoft as one of his clients, called AOL's patent portfolio "quite strong." It's got several fundamental social networking patents that would likely survive legal challenges, he thinks.
"In the 1990s AOL was the world's first social network -- well ahead of Yahoo," he added.
One potential caveat is that patent terms end after 20 years, which means that some of AOL's most valuable patents are set to expire this decade. Microsoft declined to comment on what the company intends to do with its patents, beyond saying that they "complement our existing portfolio."
For AOL, the deal provides the company with $15 of cash per share -- not bad for a stock that ended trading Friday at $18.42. The company says it intends to return "a significant portion" of the proceeds of the deal to shareholders.
AOL will probably also beef up its cash reserves. Acquiring the Huffington Post for $315 million last year, as well as many other smaller media deals, had left the company with just $408 million of cash on hand.
AOL's not out of the woods yet. Sales fell 9% in 2011, while adjusted operating profit fell 48%.
Still, analysts were positive about the deal's impact on the company, noting that AOL had been trading at an incredibly low five-times future earnings. Accounting for the new cash, that multiple would rise to about $30, which is slightly more than where the stock traded on Monday.
AOL is hanging onto about 300 patents that still relate to its business, including software technologies related to advertising, search, social networking, mapping, streaming, and security.
The deal is expected to be completed by the end of the year, pending regulatory approvals.