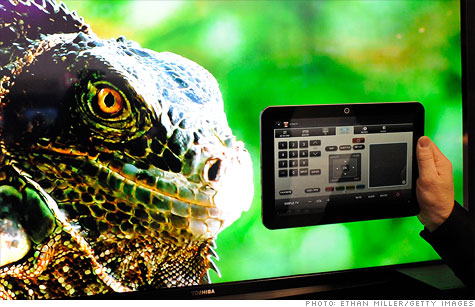 While you're watching a giant lizard on your TV, "second screen" apps add an extra social and content layer to the experience.
NEW YORK (CNNMoney) -- While you're on the couch watching American Idol, chances are you're also updating your Facebook status on your smartphone or tablet, or hitting Google for the name of that ubiquitous character actor you can't quite identify. There's also Twitter. Posts on it set two all-time records during the Super Bowl, one at halftime and another just two hours later at the game's end.
It's an advertiser's dream: not one, but two screens to capture consumers' attention. Companies are jumping on the trend with apps to enhance the television experience -- and, of course, to sell more ads.
"The consumer has led the revolution, in that they're already having these social conversations," says Radha Subramanyam, a media analytics executive at Nielsen. "Marketers and programmers are just catching up with regular behavior."
But it's hard to publicize a trend without a buzzword. There's a pile of clunky phrases being kicked around: Are these "second screen" apps? Or "social TV"? How about "simultaneous viewing" tools?
That's clearly not going to work.
"The nomenclature is very confusing," Subramanyam acknowledges. "People may not know they're doing it, but they are. And it's a mainstream phenomenon, not just young people or tech geeks."
According to Nielsen, whose most recent stats are from the third quarter of last year, 68% of tablet users say they're on their devices at least "several times a week" while watching TV. About 63% of smartphone users say the same.
It's a market ripe for ad dollars, but brand advertisers, show creators and a new crop of social-TV startups all have different ideas about what to do with that cash.
The simplest and quickest tactic, slapping a Twitter hashtag on a commercial or hawking a Facebook page in the corner of the screen during a TV show, is becoming passé.
"It's social 101 to put out a hashtag," says Christy Tanner, the general manager of TVGuide's website and mobile products. "It's not a failure, but it's just step one of many."
The pro move is to find a way to get inside the storyline -- so content, conversation and marketing all collide.
Twitter CEO Dick Costolo offered up an example at a tech trade show last year: "Glee" actors, and even their characters, tweeting during airtime. Fans love the interaction, which deepens their loyalty and -- sneaky bonus -- gets more of them to skip the DVR and watch the show live.
Others are testing how many eyeballs they can lure with exclusive extra content.
Late-night show "Conan," which airs on TBS (a subsidiary of CNNMoney parent Time Warner), recently launched its "Team Coco Tablet Sync App," which offers a real-time stream of conversation, contests, photos and videos as the show airs.
"Consumers get interactive ways to connect with shows, and advertisers can reach people who are deeply engaged," says Jonathan Weitz, a partner at broadband consulting firm IBB.
The startup surge: When Silicon Valley detects a new trend, it flings hundreds of startups into the field to map out the terrain. Right now, we're in the "experimentation" phase, with a swarm of companies trying out different approaches to see what sticks.
A long list of startups focus on different pieces of the puzzle. One of the best known is GetGlue, which bills itself as "a social network for entertainment." It's like Foursquare for television: users "check in" to say they're watching a show, and earn badges, points and other rewards.
New York-based Umami takes an automatic approach. The company's free iPad app uses "audio fingerprinting" to recognize what a user is watching, whether it's live or on a DVR. The app then pulls up information about the show's cast, news, gossip, social feeds and more.
After a four-month "beta" test run, Umami took its app offline two weeks ago. "We're now retooling based on what we've learned," Umami CEO Scott Rosenberg says. The company hasn't set a launch date yet for its next version.
Another buzzy offering comes from Miso, which has evolved over its two years in business and includes aspects of both GetGlue and Umami. Miso started out as a check-in service, but CEO Somrat Niyogi says he quickly realized that wasn't enough.
"There are fundamental flaws with the check-in model," Niyogi says. "People don't want to list everything they watch -- it is not cool. You only want to share things that makes you look cool."
So Miso expanded to include a feature called SideShows: a tool for networks or fans to create their own second-screen content. USA rolled out a White Collar-themed game, while Mad Men fans have created drinking games. One avid Glee watcher writes commentary each week in the voice of a chosen character.
Users can access SideShow content through Miso's iPhone app, and the company is beta-testing an Umami-like audio fingerprinting feature that would automatically sync the app with a show. Alternatively, AT&T U-Verse and DirecTV customers can sync the Miso app with their set-top boxes. Networks and advertisers can pay to place ads in SideShows
Will SideShows draw a big enough audience for advertisers to care?
Stay tuned.
"All of these companies have recognized that something real is happening here," says Subramanyam, the Nielsen analyst. "But not everyone will win."
Or even survive. The bodies are already piling up: Would-be contender BeeTV, a "hub" for social TV viewing folded in November, a few months after the check-in site Philo sold itself to social ad company LocalResponse.
Though more will die off, a few winners could break out and reshape the TV-meets-gadgets landscape.
"In technology, we always have all of these new terms for new behavior," says TVGuide's Tanner. "But two years from now, we'll be back to calling it regular old TV."