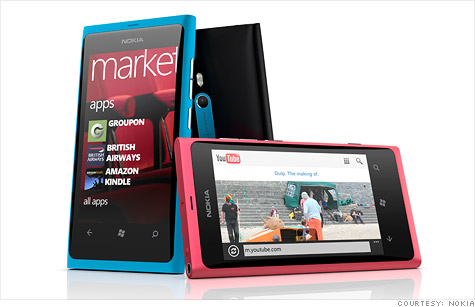 Nokia said it has sold 2 million Lumia devices, but it will still take a loss in its devices business this past quarter.
NEW YORK (CNNMoney) -- Shares of Finnish mobile phone giant Nokia plummeted Wednesday after the company yet again said it expects financial results to miss prior forecasts.
Nokia's (NOK) stock fell 16% to close at $4.24 -- more than a 14-year low. The last time the company's shares traded lower was in February 1998.
Despite selling 2 million devices from its new Lumia smartphone lineup, the company said that it lost money in its devices business over the first quarter due to ramped up competition across the world.
"Our devices and services business continues to be in the midst of transition," said Stephen Elop, CEO of Nokia, in a prepared statement.
That transition began more than a year ago when Elop announced that Nokia would ditch its struggling home-grown operating system and start shipping phones with Microsoft's (MSFT, Fortune 500) Windows Phone OS. The Lumia lineup, released in Europe last fall and in the United States this past Sunday, is the first real test of that partnership.
Nokia said it is going well so far -- just not quite as well as it had expected. Sales of Lumia devices have grown in every month since November, and the company's market share has risen as well. But Nokia warned Wednesday that it expected to report bigger operating losses from devices than it previously expected.
Making matters worse, a company spokeswoman said Wednesday that some of the Lumia 900 phones sold in the United States shipped with a software glitch that prevented the devices from connecting to the Internet. The company is offering a $100 credit to all customers, which covers the full cost of the device with a new two-year contract.
To turn the sinking ship around, Nokia said it is "quickly taking action." In addition to ramped up Lumia marketing, the company said it plans to make cost cuts, adjust prices of its phones, and consider restructuring the company "if and when necessary."
"We are continuing to increase the clock speed of the company," Elop said. "We have established early momentum with Lumia, and we are increasing our investments in Lumia to achieve market success.
For the second quarter, Nokia expects it will take another loss in its devices business. The company cited the same competitive landscape, but also noted that timing of product launches and the bad economy will factor in as well.
Nokia did not give a specific new estimate for profits or sales. The company is set to release its financial results for the quarter on April 19.
If this story sounds familiar, that's because the reduction in Nokia's forecasts is remarkably similar to an announcement the company made last May. Then, the company announced that it would miss sales and profit forecasts due to the company's transitionally period and would take "immediate action" to fix the problems facing its devices and services business.
Struggling smartphone maker Research In Motion (RIMM) also has issued a series of profit and sales warnings over the past several quarters, culminating in the naming of a new CEO and a new corporate strategy.
Both RIM and Nokia have been unable to effectively compete with Apple's (AAPL, Fortune 500) iPhone and the many devices running on Google's (GOOG, Fortune 500) Android in the smartphone market.