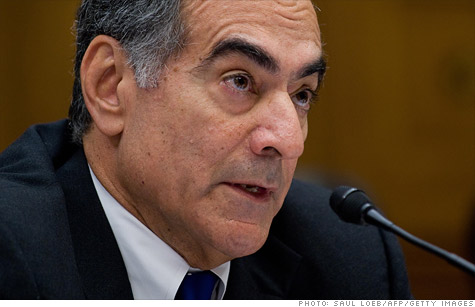 John Mack ran Morgan Stanley from 2005 to 2010 and left his role as chairman in late 2011.
NEW YORK (CNNMoney) -- Morgan Stanley's former CEO isn't easing into retirement. John Mack has shifted his allegiance somewhat, joining companies that could steal business away from big Wall Street firms.
After becoming a senior advisor for private equity firm Kohlberg Kravis Roberts last month, Mack just joined the board of Lending Club, a Silicon Valley peer-to-peer lending firm.
"Activity is going to continue to shift away from big banks," said Mack. "I think given what's going on in traditional investment banking. There's a big opportunity for PE firms to expand their platform across the financial services spectrum."
KKR (KKR, Fortune 500) currently holds a stake in asset manager Legg Mason (LM), as well as Chinese investment banking firm China International Capital Corp., and Shanghai-based financing firm Far Eastern Horizon.
Mack expects that KKR and other private equity firms will continue to encroach on areas that big banks like Morgan Stanley (MS, Fortune 500) once dominated, such as making loans to midsize companies, mortgage lending, and proprietary trading.
He also thinks Lending Club's activities could cut into banks' consumer lending business.
"Financial advisors are fascinated by this business and its returns," said Mack, adding, "I wouldn't be surprised if some start putting $15 million to $20 million in this." In fact, he's already been testing out Lending Club's system for several months with his own money.
Most of Lending Club's borrowers use the site to pay off credit card loans quickly at a lower rate of roughly 8% to 10% compared to the 17% to 18% they'd pay to Mastercard (MA, Fortune 500), Visa (V, Fortune 500) and others. Lending Club's default rate is under 2%, and it has currently seen roughly $600 million in loans exchanged across its website.
"I think the big banks will fight it as long as they can," said Mack. "It's hard to justify rates of 17% to 18% if you can pay off your loan at Lending Club for less."
For now, Silicon Valley's hottest investors have embraced the Lending Club. Mack said he learned about the company through Morgan Stanley's former lead technology analyst Mary Meeker, who is now a partner at Kleiner Perkins.
According to Lending Club Chief Executive Renaud Laplanche, Union Square Venture's Fred Wilson, an early investor in Twitter, Foursquare and Zynga (ZNGA), led the company's last round of funding in July 2011 that valued it at $250 million.
Mack, who also serves on the board of prepaid credit card firm Rev Worldwide, will be able to invest in Lending Club's next round of fundraising though Laplanche doesn't expect that to happen anytime soon.
While Mack now has influence on companies seeking to shake up Wall Street, he admits he still has a vested interest in the current world order as a Morgan Stanley shareholder. "I still have my Morgan Stanley stock, and I like the industry," he said.
Overall, he said Wall Street firms are healthier and safer than before the financial crisis. Mack served as Morgan Stanley's CEO from 2005 to 2010.