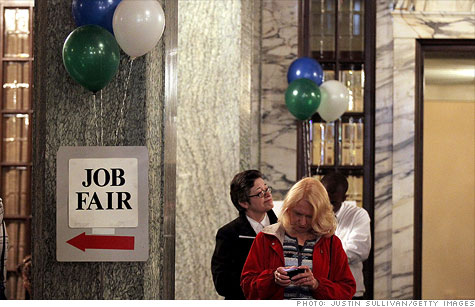 Job seekers wait in line to enter the San Francisco Hirevent job fair at the Hotel Whitcomb on March 27, 2012.
NEW YORK (CNNMoney) -- The number of people filing for unemployment benefits rose to 380,000 last week, another hiccup for the labor market following last week's disappointing monthly jobs report.
Thursday's total marked an increase of 13,000 versus figures from the week prior that were revised upward, and was the highest since late January. Analysts surveyed by Briefing.com had predicted that a total of 355,000 initial jobless claims were filed.
"Sort of a disappointing cringe right off the bat -- not only do we have an increase, but we have an upward revision," said Tim Quinlan, an economist at Wells Fargo (WFC, Fortune 500). "We certainly would've liked to see numbers in the 350,000's or so."
The four-week moving average, seen by economists as a better measure of the health of the overall labor market, was 368,500, an increase of 4,250 from the previous week.
The news follows monthly employment data released last week that showed employers added 120,000 jobs in March, badly missing expectations.
Economists attributed this slowdown in part to an unseasonably warm winter that boosted job growth in January and February. The Labor Department adjusts its data to account for seasonal trends, and the warm weather may have distorted those calculations.
Overall, the job market is still not out of the deep hole left by the financial crisis.
About 3.25 million people filed for their second week of unemployment benefits or more in the week ended March 31, the most recent period for which figures are available. That marked a drop of 98,000 versus revised figures for the previous week, and was the lowest since July of 2008.