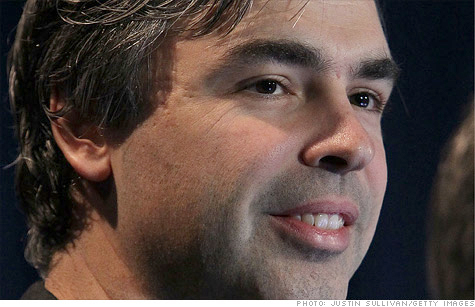 Google CEO Larry Page will gain greater influence over the company thanks to an unusual stock-split maneuver.
NEW YORK (CNNMoney) -- Google is pulling one of the stranger technical maneuvers the stock market has seen for quite some time.
The company effectively wants to split its stock, giving current shareholders two shares for every share they own. Here's the twist: The new shares will hold no voting powers, essentially giving the company's founders -- CEO Larry Page, Chairman Eric Schmidt and co-founder Sergey Brin -- more say over time in the company's management decisions.
The company already has a dual-class share system, with the founders' stock holding 10 votes per share. That currently gives Google's power trio 66% of the voting power over the company's shares, according to a recent regulatory filing.
In a letter to shareholders released late Thursday, the company's co-founders said they're concerned that day-to-day dilution from stock grants and acquisitions will undermine that structure.
"We have put our hearts into Google and hope to do so for many more years to come," Page and Brin said in the letter. "So we want to ensure that our corporate structure can sustain these efforts and our desire to improve the world."
Google has recently come under attack from some investors for spending too freely on far-off projects like space elevators and driverless cars and lacking a winning social networking strategy. The company has repeatedly urged patience, noting that many ideas will fail, but many more will -- and have -- become huge revenue drivers, including display and mobile advertising, as well as Google's $1.65 billion YouTube purchase in 2006.
The new stock structure, which gives Google's leaders significantly more power than its shareholders, won't be popular with corporate governance advocates.
J. Edward Ketz, an accounting professor at Pennsylvania State University, criticized the "peculiar" move.
"Benevolent dictators might lead to efficient government, but once they lose some of the benevolence, things can turn nasty," he said. "Google's inner circle needs to make itself accountable to others, not less accountable."
Google's shareholders will vote on the measure at its annual meeting on June 21.
In a sentence that sums the whole maneuver up, the company said: "Given that Larry, Sergey, and Eric control the majority of voting power and support this proposal, we expect it to pass."
How it works
When Google's stock splits, its per-share price will be cut in half. For each share they currently hold, existing shareholders will recieve one "class A" share with voting rights and one "class C" share with no voting rights.
Google's new shares will be listed on Nasdaq, but under a different ticker than its existing shares.
Google hasn't yet set a date for when the stock split will take place. It plans to do that after its annual meeting. It also plans to file regulatory paperwork next week describing its proposal in more detail.
Google offered a few additional specifics in a memo sent to its employees about the stock split, a copy of which was also filed with the Securities and Exchange Commission.
A solid quarter
Google proved last quarter that its strategy continues to pay off. The world's online search leader said its net income in the first quarter rose to $2.9 billion, up 61% from a year earlier.
Results included one-time charges, including its $500 million settlement with the Department of Justice over advertising violations. Without the charge, Google said it earned $10.08 per share. Analysts polled by Thomson Reuters, who typically exclude one-time items from their estimates, had forecast earnings of $9.65 per share.
Google didn't offer an update on its active user base for Google+.
Google's social products chief, Vic Gundotra, said Wednesday that more than 170 million people have "upgraded" to Google+, but that count includes visitors to Google sites that have been tied into the social network, including YouTube and Picasa.
Profit rose as the number of clicks on Google's ads grew, while the amount that advertising partners pay per click dropped: Paid clicks rose 39%, but the cost per click decreased by 12% compared to last year.
Google's costs also continued to soar, after the company continued its hiring and spending spree. The search giant upped its headcount by 2% and spending $600 million on new infrastructure. The company reiterated that it expects to continue to make "significant" capital expenditures going forward.
Sales for the Mountain View, Calif.-based company rose 24% to $10.65 billion. Excluding advertising sales that Google shares with partners, a figure also known as traffic acquisition costs, the company reported revenue of $8.1 billion, which matched analysts' forecasts .
Shares of Google (GOOG, Fortune 500) rose about 2% after hours.
-CNNMoney tech editor Stacy Cowley contributed to this report.