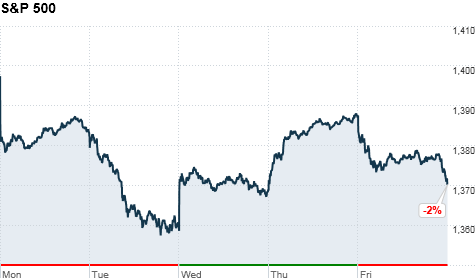 Click the chart for more stock market data.
NEW YORK (CNNMoney) -- U.S. stocks stumbled Friday, following a two-day rally, closing lower for a second straight week with the worst declines of the year.
The Dow tumbled 1.6%, while the S&P 500 sank 2% and the Nasdaq lost 2.3%.
At the start of the week,stocks were driven sharply lower by the ugly March jobs report and fresh worries about Europe's debt crisis. They rebounded a bit toward the middle of the week, but fell sharply again Friday as a slowdown in China's economy overshadowed a batch of better-than-expected earnings results.
The Dow Jones industrial average (INDU) dropped 137 points, or 1.1%, on Friday, while the S&P 500 (SPX) shed 17 points, or 1.3%, and Nasdaq (COMP) lost 44 points, or 1.5%.
The Chinese economy grew at an annual pace of 8.1% in the first quarter, the country's National Bureau of Statistics said Friday, marking a deceleration from an 8.9% growth rate in the prior quarter.
Fears are looming among many investors about a slowdown in China following years of breakneck growth, and what some believe is an inflating property bubble. Others, however, are more optimistic; the World Bank predicts the Chinese economy will slow to a 8.2% growth rate this year but rebound to 8.6% in 2013.
"Markets have been overemphasizing the risk of a hard landing in China," said Michelle Gibley, director of international research at Charles Schwab. "Growth did slow, and it was weaker than expected, but I think this could prove to be the trough, and economic growth will start to pick up."
Gibley highlighted the fact that the Chinese government has been easing its monetary policy, and expects those efforts to make an impact on the economy through the course of the year.
China's slower growth weighed broadly on the market, with over 90% of the Dow's 30 components trading lower, including JPMorgan Chase (JPM, Fortune 500), despite a first-quarter earnings and revenue beat.
The bank posted earnings of $1.31 a share, which were lower from a year ago, but above analyst estimates of $1.17. Shares dipped more than 3%.
Wells Fargo (WFC, Fortune 500) also topped expectations, reporting earnings of 75 cents a share on $21.6 billion in revenue, but the bank's stock also fell.
Shares of Bank of America (BAC, Fortune 500), Goldman Sachs (GS, Fortune 500) and Morgan Stanley (MS, Fortune 500), which all post results next week, were also lower.
"The bank earnings were decent, but we didn't see any home runs," said Peter Tuz, president at Chase Investment Counsel. "And China's news is casting a negative pall, so it's natural for investors to take some money off the table, especially after two strong days."
Investors were also skittish as the cost of insurance for Spanish debt rose to an all-time high, raising debt contagion fears in the Eurozone, said Wells Fargo Advisors analysts.
U.S. stocks posted the best gains in a month on Thursday, with the Dow and S&P 500 jumping 1.4%.
Economy: A lower than expected reading on the University of Michigan's Consumer Sentiment Index also weighed on the market. The index fell to 75.7 in April, from 76.2 in March. Analysts were expecting the index to slip to 76.1.
Meanwhile, the U.S. government reported that the Consumer Price Index, its key inflation metric, rose 0.3% in March, led by increases in gas prices, with a year-over-year increase of 2.7%. The reading was in line with analyst expectations.
Companies: Google (GOOG, Fortune 500) beat earnings expectations late Thursday, with a profit of $2.9 billion for the first quarter, up 61% from a year earlier. Google's revenue climbed 24% to $10.7 billion. The company also announced an unorthodox stock split. Shares of the search giant finished lower.
Coinstar (CSTR) shares jumped after the company noted "stronger than anticipated consumer demand at Redbox" on Thursday and raised its earnings outlook for the year.
Dow Chemical (DOW, Fortune 500) shares edged higher after the company announced late Thursday that it will raise its second-quarter dividend by 28% to 32 cents per share.
World markets: European stocks closed mixed. Britain's FTSE 100 (UKX) gained 0.3%, while the DAX (DAX) in Germany fell 2.4% and France's CAC 40 (CAC40) slipped 2.2%.
Asian markets ended higher. The Shanghai Composite (SHCOMP) gained 0.4%, the Hang Seng (HSI) in Hong Kong climbed 1.8% and Japan's Nikkei (N225) rose 1.2%.
Currencies and commodities: The dollar gained against the euro and the British pound, but slipped versus the Japanese yen.
Oil for May delivery slipped 81 cents to settle at $102.83 a barrel.
Gold futures for April delivery fell $20.40 to settle at $1,659.10 an ounce.
Bonds: The price on the benchmark 10-year U.S. Treasury rose, pushing the yield down to 2%, from 2.05% late Thursday.