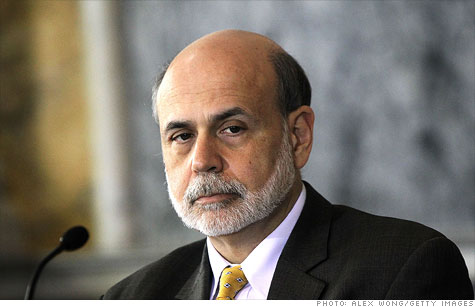 In a speech Friday, Federal Reserve Chairman Ben Bernanke said the central bank should focus on regulation just as much as monetary policy.
NEW YORK (CNNMoney) -- The Federal Reserve needs to focus just as heavily on its regulatory role as its monetary policy operations, Chairman Ben Bernanke stressed Friday.
That's the lesson that the Fed chairman took away from the Great Recession.
"Going forward, for the Federal Reserve as well as other central banks, the promotion of financial stability must be on an equal footing with the management of monetary policy as the most critical policy priorities," Bernanke said.
Speaking at a conference in New York, Bernanke focused largely on historical events leading up to the recent financial crisis and the central bank's response to it.
He characterized subprime mortgages as a "trigger" of the crisis, but "vulnerabilities" -- like a lack of oversight and regulations -- were also largely to blame for amplifying the financial shocks, he said.
As a result of the crisis, the Federal Reserve has since taken steps to strengthen its supervision of banks. Bernanke pointed to the Fed's stress tests of the largest U.S. banks as an example of one improvement, but otherwise didn't get into many specifics.
"We want financial firms to be able to not only assess the current value of their portfolio, but we also want to understand where they would be under severe scenarios," he said.
Bernanke repeated many of the points he presented in a lecture series at George Washington University about two weeks ago.
For example, when a Princeton professor in the audience asked him to comment on his predecessor Alan Greenspan's time at the Fed, Bernanke said he believes the central bank's policies were not a major cause of the housing bubble.
"It's a very contested topic," he said. "But my reading of the research literature is so far that the evidence that monetary policy was a major source of the housing crisis is pretty weak at this point."