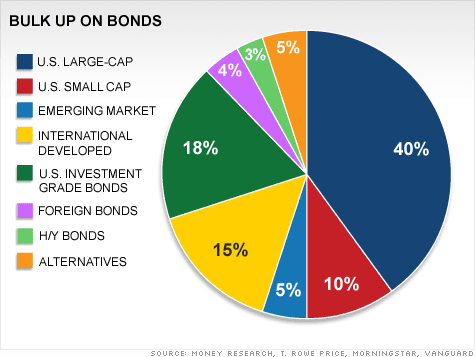 How should you allocate your investments in your mid-40s to mid-50s? Try this model portfolio.
(MONEY magazine) -- With 20-plus working years under your belt, you're beginning to close in on retirement.
You still need growth to get you where you need to go. Yet your savings have reached a level where long-term returns -- both good and bad -- have a big impact, says Rick Ferri, founder of Portfolio Solutions.
So it's time to get a little more conservative. Trim your equity stake to between 60% and 70%, and use the money to diversify the bond side of your portfolio.
Here is the second of three model portfolios -- this one will carry you from age 45 to 54 -- plus suggestions for investments, including low-cost funds from the MONEY 70. You can also check out our investing tips for ages 35 to 44 and 55-plus.
Want to exercise more muscle? Choose the "boost" option, which involves taking a bit more risk for the chance at more return.
Even without this extra pop, though, the strong core you'll find here will help you reach retirement a winner.
What's in the core portfolio
To achieve the bigger bond stake that this phase calls for, you might assume that you're going all in on Treasuries. Nuh-uh. They are expensive now, and you don't want to be overexposed. (After all, you already get access to U.S. government debt in your broad-market bond fund.)
A better move is to trim two to three percentage points from all four slices of your stock mix. Dial up the total market bond fund just a touch (from 15% to 18%), and then add in these new categories of bond funds:
Just put 4% into foreign bonds. T. Rowe Price International Bond: Now that you're upping your bond stake, you want to go global. Otherwise "you concentrate your risk," says Chris Cordaro, chief investment officer of RegentAtlantic.
Foreign bonds could also help smooth your ride. A working paper out of Cornell University found that foreign corporate bonds could reduce the volatility of U.S. corporates by as much as 80%. The T. Rowe fund holds mostly high-quality debt and charges 0.82% a year, vs. 1.10% for the average foreign bond fund.
High-yield bonds: 3%. American Funds American High Income Trust (AHITX): Over the past decade, junk bonds have returned 7% annually, outpacing the broader bond market's 6%. Remember, though, that higher yield means higher risk, which is why junk bonds should make up only 3% of your portfolio. High Income Trust doesn't play it safe, but the fund did beat two-thirds of its peers over the past decade.
The boost
Now that you're older, it's too risky to overweight your portfolio in midcaps, as you did earlier. So ditch those holdings, dial back your large-cap fund a bit, and put 10% of your portfolio in solid big businesses whose stock prices have suffered a setback.
Over most 10-year periods, these "value" stocks have outperformed fast-growing companies. Here are two strong equity contenders, and a fund, if you'd rather:
Large-cap value stocks: 10%. Vodafone (VOD): The British wireless company is expected to grow earnings 9% annually over the next five years, vs. 4% for AT&T and 6% for Verizon. Yet its shares are priced comparably because of fears over Europe. Eventually, the firm's global presence should push the stock up, says Brian McMahon, co-manager of Thornburg Investment Income Builder.
PNC Financial (PNC, Fortune 500): The bank trades at 30% below its five-year P/E average. And unlike many of its peers, PNC has been expanding (through acquisitions). The stock could rise roughly 20%, estimates Morningstar.
Large-cap value fund. Sound Shore (SSHFX): The fund's managers look for companies trading below their average historical P/E ratios. The gambles don't always work in the short term, but over 10 years Sound Shore has returned 5% annually vs. 4% for the S&P 500.
Best investments for every age:
Best investments at ages 35 to 44
Best investments at ages 45 to 54
Do you know a Money Hero? MONEY magazine is celebrating people, both famous and unsung, who have done extraordinary work to improve others' financial well-being. Nominate your Money Hero.