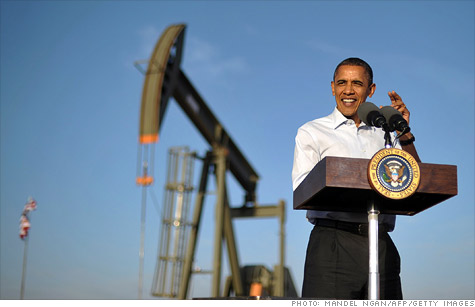 President Obama is looking to limit some oil market activity, saying it leads to higher prices.
NEW YORK (CNNMoney) -- The Obama administration proposed new measures Tuesday to limit speculation in the oil markets, seeking to draw a contrast with Republicans who have been calling for more domestic drilling during a time of near record gasoline prices.
The new proposals require oil traders to put up more of their own money for transactions, ask for more money for market enforcement and monitoring activities, and call for higher penalties for market manipulation.
"None of these will bring gas prices down overnight," Obama said at a White House press. "But they will prevent market manipulation, and help protect consumers."
The impact that speculation, or investment money, is having on oil prices is a subject of much debate.
Many argue that investment money, especially index fund money, is largely to blame for the spike in oil prices seen over the last several years. They say the amount of oil traded in futures contracts greatly exceeds the amount of actual oil available, and that the bets on higher prices made by index funds are a self-fulfilling prophecy.
But others say that if oil prices were artificially high, there would be a surplus of crude accumulating around the world, a situation that has not occurred. They also note that in other commodities in which speculation is rampant, such as natural gas, prices are at near record lows. Simple supply and demand, they say, are responsible for the high prices.
Obama's call for more money for oversight, or "cops on the beat" as he put it, will likely shed more light on the murky world of oil trading.
It's also possible the additional oversight will find that traders are not artificially driving up oil prices.
The moves come as Republicans seek to blame Obama for the high price of gas.
Republicans have repeatedly called on the administration to open more areas of the country for drilling and approve energy projects such as the Keystone pipeline, although analysts say that would do little to lower prices in the short term.
Despite Republican attempts to blame Obama for high gas prices, the American public has been less inclined to finger the administration for the recent runup.
Twenty-four percent of respondents in a recent CNN poll blamed Obama for high gas prices, just slightly more than the 21% that blamed Republican policies. The majority blamed oil companies or foreign countries.
Specifically, Obama's proposals call on Congress to:
--Boost spending on technology to improve better oversight and surveillance of energy markets.
--Increase by six times the amount of money spent on surveillance and enforcement staff for the Commodity Futures Trading Commission to better deter oil market manipulation.
--Increase from $1 million to $10 million civil and criminal penalties against firms that engage in market manipulation.
--In an effort designed to limit energy market disruptions, give the Commodity Futures Trading Commission authority to increase the amount of money that a trader must put up to back a trading position.
The Obama administration plans to increase access to the commission's data so the White House Council of Economic Advisers can examine and analyze trading information, which the administration can do on its own.
House Republicans are unlikely to pass any measure that seeks to impose more limits on Wall Street at a time when they are seeking to limit regulations on the finance industry.
--CNN's Jessica Yellin contributed to this report