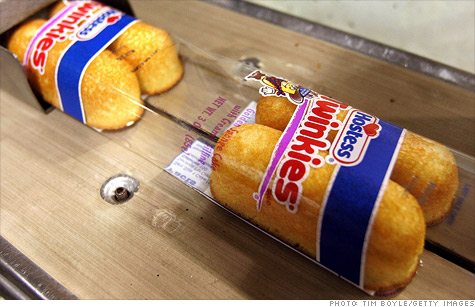 Hostess could be forced out of business, taking Twinkies and its other iconic products with it, if a looming strike threat at the company comes to pass.
NEW YORK (CNNMoney) -- The maker of Twinkies and Wonder Bread heads to court Tuesday to try to throw out its union contracts, in a battle that leaves the iconic baker's future very much in doubt.
Hostess Brands, which makes Ding Dongs and a variety of other sweet treats, is asking the bankruptcy court in White Plains, N.Y. to tear up labor agreements, which would, among other things, allow Hostess to change how it funds union pensions. The hearing is expected to last two days.
The International Brotherhood of Teamsters and the Bakery, Confectionery, Tobacco Workers, together represent more than three-quarters of the 18,500 workers at the company.
The Teamsters have vowed to strike if the judge agrees with management's request and dumps the labor deals.
But both management and the unions agree that the company is unlikely to survive a strike.
"We would no longer have cash to keep operating," said Hostess management in a letter sent to employees on Monday. "All Hostess Brands operations would shut down and liquidation would begin. The 18,500 jobs, plus the health insurance that comes with them, would be lost for good."
The company filed for bankruptcy in January, it's second trip to bankruptcy court since 2004. And management has said that the investors who are financing the company during bankruptcy would pull out if there is a strike.
Hostess was founded as Interstate Bakeries in 1930, although some of its best-known products go back much farther than that. Wonder Bread is 90 years old and Drake's cakes have been produced since 1888. The company was renamed Hostess Brands as it emerged from bankruptcy in 2009.
At the time of its January bankruptcy filing, Hostess said it pays about $63.2 million to its employees per pay period and owes more than $1 billion to more than 50,000 creditors. The bakers' union pension fund was the biggest creditor, owed $994 million, according to the filing.
Hostess said it is offering an attractive package to unions, including a traditional defined benefit pension plan and the same health insurance plan that's offered to management, with 85% of the premiums paid by the company. It's also proposing a pay freeze for workers, rather pay cuts.
The Teamsters charge management is pushing for the confrontation and possible shutdown because its secured creditors are calling the shots, and see liquidation as a better chance of recovering their money. But the union says it's willing to give Hostess the cost savings it says it needs.
"We put an offer on table with $150 million in concessions," said Ken Hall, the Teamsters' secretary-treasurer. "There is not a chance our members would accept [the company's offer]. They won't work for nothing."
The union said it wants to see more sacrifices by management.
"If there is no shared sacrifice and no equality of sacrifice, then there's no deal," said Teamsters General President Jimmy Hoffa in a call with memberships last week.
The Bakers' union did not respond to calls asking for its plans if the union pacts are thrown out by the court. But the Teamsters say the Bakers have agreed not to cross Teamsters picket lines if they walk.
Hall charges that Hostess is simply trying to get out of $1.9 billion in pension obligations, and that 91% of Hostess Teamsters have voted in favor of a strike, even though the union has made it clear that liquidation is a likely outcome of a strike. He said a strike date won't be set until after a court decision.
"We want to at least put into that judge's mind ... that perhaps throwing out the contract is not going to save the company," he told members at Hostess in a conference call last week.
Hall said Hostess' labor costs are $400 per driver per week less than rival Bimbo Bakeries, which makes Arnold's bread as well as Entenmann's baked goods and Thomas' English Muffins.
"This is not about employees and labor costs, this is about poor management," said Hall.