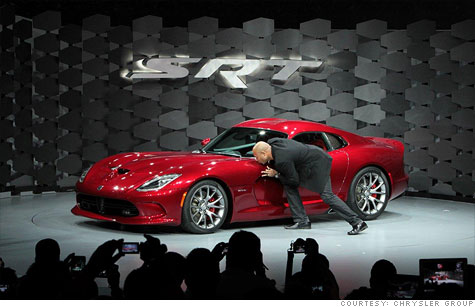 Unveiled at the recent New York Auto Show, the SRT Viper had been left for dead just a few years ago.
NEW YORK (CNNMoney) -- As the 2013 SRT Viper was revealed at the New York Auto Show earlier this month, Ralph Gilles, head of Chrysler's SRT performance division, was inside the car wiping away tears and trying to pull himself together.
"All of the trials and tribulations of the prior years, it all came to me all at once," he said, days after the emotional unveiling.
Besides leading the Chrysler Group division responsible for the Viper, Gilles is also head of design for the entire company. He's been with the automaker since 1992, helping to create many of its most iconic vehicles, including the Chrysler 300 and Ram truck.
It's been a wild, scary ride for Gilles and Chrysler.
But the story of the 2013 Viper -- a car once counted as dead that came miraculously back to life -- is just about as surprising as the comeback of the Chrysler Group itself.
Just a few years ago, Chrysler was ready to send the Viper packing. Introduced in 1992, the V-10-powered Dodge Viper, as it was called then, had always had an avid fan base but was never a huge seller. With prices starting at close to $100,000, the fairly bare-bones brand image was built around the car's raw power, long hood and gaping air vents.
By 2008, Chrysler was emaciated and close to death. The automaker's then-owners, Cerberus Capital Management, wanted to sell the Viper business off in exchange for much-needed cash. Gilles was tasked with helping to sell off one of the icons he'd helped to shape, and which he loved.
But without a major redesign, the Viper needed significant investment to keep it competitive. Faced with that reality, interest from potential bidders faded -- and the Viper was left to die.
"The mood around Chrysler at that time was pretty sad," Gilles said. With no money to develop new products, designers had little to do. Many of the engineers who'd worked on the Viper left the company.
Viper rises again: Then Chrysler went through bankruptcy, Cerberus was gone and in June 2009, Fiat boss Sergio Marchionne stepped in.
"It wasn't until the new management came in that we looked at everything we had and I thought it was a good idea to say 'Hey, we have this car,'" said Gilles.
But when Marchionne, whose Fiat Group also includes Ferrari, tried the Viper, he wasn't terribly impressed, said Gilles.
Still, Marchionne didn't say "No" to the idea of developing a new version.
"In Sergio-speak, if he doesn't tell you to stop, that means he's intrigued, at least," he said.
Marchionne wasn't available to comment for this story.
So Gilles set about developing a business case for an all-new Viper. This time, besides being a better car, this Viper would also need to make money. "In the old days, we could do that car at a loss as a huge image play," Gilles said.
He declined to say precisely how the new Viper will manage that particular performance target.
Gilles also started rebuilding the old Viper team.
"We told [former Viper engineers] the Viper might come back, and they immediately asked to be re-employed," said Gilles.
Meanwhile, Chrysler Group had a long list of other cars that needed attention before anyone could even think about the Viper.
Finally, in the summer of 2010 -- around the time that the very last of the old Vipers rolled off the assembly line -- Gilles and his team presented a full-sized model of the new car to the product committee that would decide its fate.
Marchionne, in particular, studied the mock-up closely.
"He looked at it unlike any CEO I've ever seen look at a car," Gilles said. "He looked at it like it was a work of art, a beautiful painting."
Though Chrysler considered basing the new car on Ferrari engineering, the Viper's extreme proportions ruled that out, so the Viper remains almost entirely a Detroit product. (The seats are made by a Ferrari supplier although they are unique to the Viper.)
Finally, the car was unveiled at the New York Auto Show, powered by a 640-horsepower aluminum engine under, again, a long hood with gaping air vents. This time, though, there's a level of quality -- especially in the interior -- that befits the Viper's price and performance.
"This time it's a bit different," said Gilles. "Its an actual contender in the supercar arena."