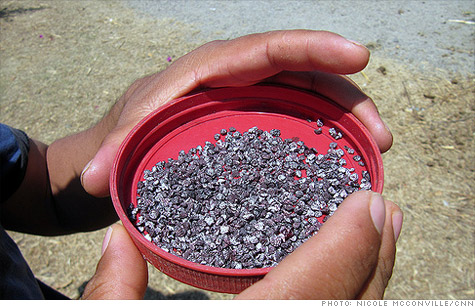 Crushed cochineal extract has been used as a red dye for centuries, but it won't be used for much longer by Starbucks.
NEW YORK (CNNMoney) -- Want some crushed bugs with your Starbucks frappuccino?
Well, you'd better get on it, because soon it will be too late. The coffee franchise announced that it's phasing out the use of insects as food coloring in its drinks and food products.
Starbucks (SBUX, Fortune 500) President Cliff Burrows wrote, in a Thursday blog, that Starbucks is "transitioning" away from the use of an insect called the cochineal.
Burrows blogged that Starbucks "fell short of your expectations by using natural cochineal extract as a colorant in four food and two beverage offerings in the United States."
He identified the products in question as the Strawberries & Crème Frappuccino, Strawberry Banana Smoothie, Raspberry Swirl Cake, Birthday Cake Pop, Mini Donut with pink icing and Red Velvet Whoopie Pie.
Burrows said that use of the insect dye will be "fully transitioned from existing product inventories" by the end of June.
From that point on, he said that Starbucks will use lycopene, a tomato-based extract.
An earlier Burrows blog from March 29 described the cochineal as a natural product, approved by the Food and Drug Administration, with no health risk.
Starbucks spokesman Jim Olson said the company was responding to numerous petitions and individual requests from customers who were concerned about the use of an insect-based extract.
The organization Change.org contacted CNNMoney to claim partial responsibility for pressuring Starbucks with its petition of 6,000 signatures gathered by blogger Daelyn Fortney. The purpose, according to Fortney, was to switch to a "vegan-friendly" extract.
The cochineal has a long history as being used as a red dye, according to Richard Levine, communications program manager for the Entomological Society of America.
"The red in the uniforms of the British soldiers during the Revolutionary War came from cochineal dye," he said. "The same goes for the uniforms of the Royal Canadian Mounted Police."