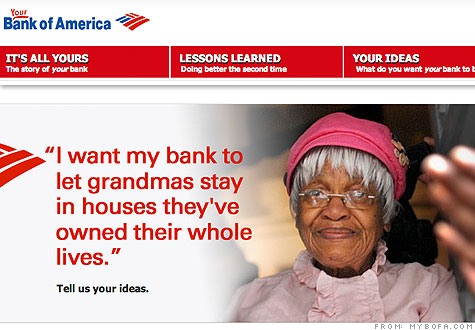 A page from YourBofA.com asks visitors for their ideas on building a better bank.
NEW YORK (CNNMoney) -- What would Bank of America look like if it were owned by its customers?
YourBofA.com, a parody site launched this week, lets the crowd take a stab at answering that question. Mimicking the real Bank of America site's look, it takes scathing aim at the bank's missteps and invites visitors to share their ideas about what a taxpayer-owned Bank of America should do. Several thousand contributors have already sent in suggestions.
The site's creator is Yes Lab, an organization that helps activist groups launch what it calls "media-getting creative actions."
America's second-largest bank was an obvious target, Yes Lab director Andy Bichlbaum says.
"Bank of America is sort of the low-hanging fruit," Bichlbaum told CNNMoney.
The bank is part of the recent $26 billion settlement with federal and state governments over "robo-signing" and other abusive foreclosure practices. Last year, it struck a deal with the Justice Department and agreed to pay $335 million to settle discriminatory lending charges.
A spokesman from Bank of America emphasized that the YourBofA.com site is not affiliated with the company.
"We have no other comment," he said.
In collaboration with activists from Occupy Wall Street, BreakUpBofA.com, the Rainforest Action Network and others, the Yes Lab crew worked on the site concept over the past three months. It launched Thursday morning, coincidentally coinciding with Bank of America's latest earnings report, during which the bank revealed a $653 million profit in its latest quarter.
Enter the YourBofA.com and you'll be greeted with a fake "Dear Fellow American" letter purportedly from Bank of America CEO Brian Moynihan.
"It's time to acknowledge that our Bank isn't working anymore -- not just for the market, but for people, our real customers," the fake letter declares.
The letter, and other sections of the parody site, suggest that Bank of America's financial fortunes have crumbled so much that it might need taxpayer help to stay afloat -- in which case it really would be a collectively owned "Bank of America."
But that far-fetched scenario is even less likely than it was a few months ago, when Yes Labs began working on its site. YourBofA.com refers to Bank of America (BAC, Fortune 500) stock trading "not far from $5," a level the it hasn't been near since late 2011. The stock rallied and is one of the market's best-performing stocks in 2012.
Bichlbaum shrugged off that quibble. The site's goal is to become a forum for people to trade ideas on how a bank should be run, he said.
"When we bailed them out in 2008, you would think we'd get some say in how they've run, but now they continue behaving how they were, doing the same things that got them into the mess," he said. "Ordinary people have much better ideas about how a bank should be run than bankers do."
Those ideas -- some serious, some satiric -- are pouring in. The site has 185 pages of crowdsourced suggestions so far.
"Let's have greater transparency and accountability in your lending practices," one visitor suggested."Everyone in a tough spot appreciates a cheap loan, but when you make too many bad ones we all suffer."
Another wrote: "I want my bank to not be run by clinical psychopaths."
Bichlbaum says he hasn't heard any feedback from Bank of America -- or its lawyers -- about the site.
Yes Lab has more plans for Bank of America's shareholder meeting, which will take place May 9 in Charlotte, N.C. Bichlbaum wouldn't go into details, but said offline protests are in the works. The Rainforest Action Network, a Yes Lab affiliate, is advertising on its website for attendees at a rally and protest march.