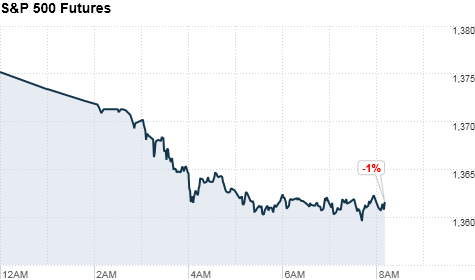 Click chart for more pre-market data
NEW YORK (CNNMoney) -- U.S. stocks were poised for a lower open Monday on concerns over European political uncertainty and another sign of a slowdown in the Chinese economy.
The Dow Jones industrial average (INDU), S&P 500 (SPX) and Nasdaq (COMP) futures were all down about 1%. Stock futures indicate the possible direction of the markets when they open at 9:30 a.m. ET.
French President Nicolas Sarkozy, one of the architects of the European agreement to avert sovereign debt default, finished in second place in the initial round of French presidential elections Sunday. He will now face Socialist candidate Francois Hollande in a May 6 run-off vote.
Meanwhile, Dutch Prime Minister Mark Rutte is expected to resign, prompting new elections in the Netherlands, after one of his coalition partners in the government withdrew -- due to negotiations over the 2013 budget. This could place the Netherlands' AAA credit rating at risk, according to Kathleen Brooks, research director of Forex.com.
"Holland was once considered a 'safe' triple A nation, however, that may not be the case," she wrote in a note to clients Monday. "The Netherlands has overtaken France as the largest political risk this week."
The latest reading on eurozone manufacturing also fell unexpectedly Monday to the lowest level since November, a sign that the 17-nation block has fallen further into recession.
Worries that the problems in Europe are still not over were further driven home by Christine Lagarde, the managing director of the International Monetary Fund. Lagarde warned at meetings of the IMF and World Bank over the weekend that the "dark clouds on the horizon" for the global economy threatened the "light recovery blowing in a spring wind."
Fueling investor concerns about the global economy was a preliminary reading on Chinese manufacturing released early Monday, showing a contraction in for the second straight month.
On the domestic front, Monday will begin one of the biggest weeks for corporate earnings, as a number of telecoms, tech firms and energy companies will weigh in during the week with first-quarter numbers.
In the U.S., No. 1 retailer Wal-Mart (WMT, Fortune 500) was hit by allegations in the New York Times over the weekend that top executives in its Mexican division attempted to conceal a widespread bribery scheme from the company's headquarters. Shares fell 4% in premarket trading. The company says it is investigating.
In other corporate news, two deals were announced early Monday. Dow component Pfizer (PFE, Fortune 500) reached agreement to sell its baby formula business to Nestlé (NSRGF) for $11.85 billion in cash. And AstraZeneca (AZN) announced it is buying Ardea Biosciences (RDEA), a California-based biotechnology company, for $32 a share or $1.3 billion -- a 54% premium from Friday's closing price.
U.S. stocks finished mostly higher Friday, as investors welcomed another round of strong earnings from corporate America and positive news out of Europe. However, the tech-heavy Nasdaq finished lower for a third straight week.
World markets: European stocks were sharply lower in morning trading. Britain's FTSE 100 (UKX) fell 1.9%, while the DAX (DAX) in Germany lost nearly 37% and France's CAC 40 (CAC40) dropped 2.2%.
Asian markets ended lower across the region. The Shanghai Composite (SHCOMP) shed 0.8%, the Hang Seng (HSI) in Hong Kong closed down 1.8% and Japan's Nikkei (N225) slid 0.2%.
Economy: Annual reports on the financial health of Social Security and Medicare are due Monday.
Companies: Corporate earnings season continues, with Xerox (XRX, Fortune 500) and ConocoPhillips (COP, Fortune 500) releasing first-quarter data ahead of the opening bell.
Xerox reported adjusted earnings of 23 cents a share, unchanged from a year earlier and matching forecasts. Its shares gained 4% in premarket trading following the report.
But while ConocoPhillips posted improved earnings of $2.02 a share, it fell short of forecasts of a $2.08 a share. Its shares lost 2.2% in pre-market trading.
After the closing bell, Netflix (NFLX) will release first-quarter data. Analysts expect the company to post a loss of 27 cents per share.
Currencies and commodities: One piece of good news for the U.S. economy is that average gas prices continued to retreat farther away from the $4 level.
The biweekly Lundberg Survey marked its first decline of the year, while the daily survey from AAA showed its seventh straight decrease, further raising hopes that gas prices might have already peaked for the year.
Oil for June delivery fell 95 cents to $102.93 a barrel.
The dollar gained strength against the euro and the British pound, but slipped against the Japanese yen.
Gold futures for June delivery lost $11.80 to $1,631.00 an ounce.
Bonds: The price on the benchmark 10-year U.S. Treasury edged lower, pushing the yield up slightly to 1.97%.