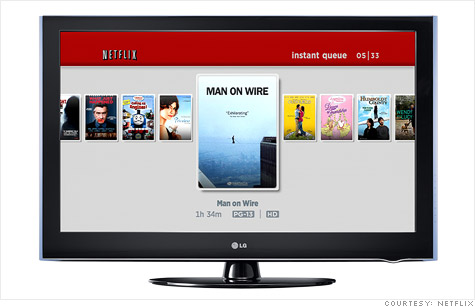 NEW YORK (CNNMoney) -- Netflix's first-quarter financials came in better than expected after a dismal 2011, but it wasn't enough for investors to overlook a weak revenue outlook.
Netflix announced late Monday that it lost 8 cents per share on $870 million in sales last quarter. Analysts polled by Thomson Reuters expected a much wider loss of 27 cents per share, and sales of $866 million.
But Netflix (NFLX) shares plunged in after-hours trading Monday and were down 13% in early trading Tuesday morning. Investors were likely disappointed by Netflix's sales outlook of $873 million to $895 million for the second quarter, lower than analysts' forecasts of $897 million.
Despite the stock's drop Tuesday, shares are still up 28% this year after a roller coaster 2011.
Netflix did have some good news for the first quarter.
In addition to the smaller-than-expected loss, Netflix also added new U.S. streaming subscribers at a rapid clip: More than 1.7 million signed on in the first quarter, for a total of 23.41 million.
"Everything's consistent with about what we've been hoping for," Netflix CEO Reed Hastings said on a post-earnings conference call, referring to the subscriber increase.
Overseas streaming subscribers jumped to nearly 3.1 million, up 1.2 million from last quarter. But the number of U.S. DVD subscribers fell to about 10.1 million, down from almost 11.2 million in the fourth quarter.
Another spot of good news: Netflix said it may turn a profit again in the second quarter. The company didn't rule out a loss, but its forecast ranged from a loss of 10 cents a share to a profit of 14 cents a share.
Previously, the company had warned that its investments in new overseas markets would take a huge bite out of earnings and make the company unprofitable for all of 2012.
Content costs: Hastings spent a good amount of time on the conference call discussing content, which is a major source of concern, as Netflix is being forced to shell out more cash to retain its catalog.
Studios are demanding that Netflix pay them more money for their content, and not all of those negotiations are working. Netflix was unable to renew its contract with Starz, a key content supplier. The Liberty Media (LMCA)-owned cable company has a large chunk of Disney (DIS, Fortune 500) movies that are now no longer in Netflix's catalog either.
One analyst asked about other high-profile deals with studios, and Hastings acknowledged that many of its big contracts expire in 2014 or 2015.
But, he added, Netflix "will continue to spend quite aggressively" on its catalog.
Hastings also discussed Netflix's foray into original content with "Lilyhammer," a show starring "The Sopranos" actor Steven van Zandt that debuted earlier this year. The Kevin Spacey series "House of Cards" is also slated for 2012, and the cult favorite "Arrested Development" will be resuscitated on the streaming service early next year.
"'Lilyhammer' was quite successful for the amount we spent on it," Hastings said. "We feel really good about that as our first shot out."
International: Netflix didn't break out numbers for each of its international markets, but the company said the UK and Ireland "had substantially more members" after three months than Canada or Latin America did after the same period of time.
Hastings said on the call that "Latin America has very nice revenue growth, but it's not catching up as fast as we anticipated based on the [investment in] content."
Netflix will launch in a new overseas market in the fourth quarter, but it didn't say where that will be.
Terrible 2011: Netflix was once the company that could do no wrong, in the eyes of customers and investors.
But 2011 was a year full of missteps that eroded both Netflix's reputation and market value. The troubles began in September, when Netflix hiked prices by 60% for customers subscribing to both Netflix's DVD and streaming business. In the third quarter of 2011, the company's U.S. subscriber base fell for the first time in years.
Then, Netflix stunned customers when it said it would rename its DVD business Qwikster and separate that business from the more lucrative streaming. Customers raged so much that Netflix scrapped the idea less than a month later.
Hastings later said the miscues were a result of the company becoming "overconfident."