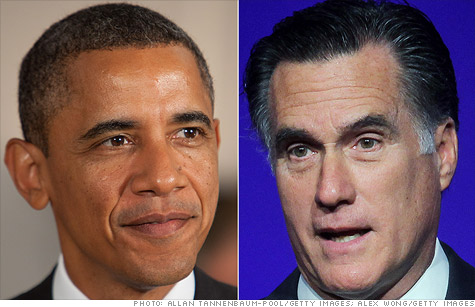 President Obama and Mitt Romney both want to get that money.
NEW YORK (CNNMoney) -- With primary season over, the race for president -- and the race for cash -- is about to heat up.
Campaign finance experts expect President Obama and Mitt Romney will attract enough money to break all previous fundraising records. For Obama, who raised $750 million in 2008, a jump up to $1 billion is not out of the question.
"I think we will break all the records," said Brad Smith of the Center for Competitive Politics. "We break all the records almost every cycle now."
A narrowing of the race is likely to help both sides raise cash. The candidates, and their donors, are now able to stare across the aisle to an easily identifiable opposition candidate.
The Obama team is off to a decent start. The campaign announced last week that they raised $53 million in March, and have, when combined with the Democratic National Committee, a war chest of about $130 million.
Romney's camp raised $12.6 million in primary funds in March, but has only $10 million in cash on hand -- leaving Obama with a more than 10-to-1 advantage.
That doesn't mean the Romney campaign isn't attracting donors. Over the past year, the campaign has raised $87 million in funds, but most of the haul was spent vanquishing primary opponents.
With Obama already far ahead, Romney needs to start stockpiling money.
"If there is one thing that Romney has been incredibly effective at, it's raising money," said Bill Allison, editorial director at the Sunlight Foundation, a group that advocates for transparency in government. "He has a national network. He is going to be a prodigious money raising machine."
A new strategy
With challengers out of the way, the Romney campaign is free to put a new fundraising structure in place.
In recent days, Romney has established a joint "Victory Fund" with the Republican National Committee. The team fundraising effort was not possible just a few weeks ago, as Rick Santorum stubbornly stuck in the race.
"The party won't start fundraising with just one candidate until the nominee is firmly ensconced, with a mathematical hold on a winning number of delegates," Allison said. "Romney is close enough now."
The RNC isn't subject to the same contribution limitations that the campaigns are. So the new Victory Fund means the Romney team is now able to accept checks of more than $50,000, instead of just $2,500.
The first $2,500 of those major donations will go to the Romney primary fund. The next $2,500 goes to general campaign bank account. A hefty chunk -- $30,800 -- goes to the RNC (and is likely to circle back to Romney).
The remaining donation can be distributed to state party committees. (Read more: SEC rule hits Romney fundraising)
The big money
For the super PAC cash, Romney has the Supreme Court's Citizens United decision to thank. The decision, handed down in January 2010, opened the doors for unions and corporations, previously shackled by donation limits, to operate with fewer restrictions on their activities.
During the 2010 midterm election cycle, newly formed super PACs spent around $65 million, according to data from the Center for Responsive Politics.
That's going to look like loose change by the end of this year. Already, total super PAC funding exceeds $200 million. And just one super PAC -- the Romney-affiliated Restore Our Future -- has raised $52 million through the end of March.
While super PACs are prohibited from coordinating their activities with campaigns, Restore Our Future played a crucial role in Romney's march to victory, paying for many of the negative advertisements that helped keep their candidate on top.
When it comes to super PACs, Obama has some catching up to do. The primary pro-Obama super PAC, called "Priorities USA Action," has only brought in $9 million in donations through the end of March. The group got a late start after Obama only agreed in February to back its activities.
More funding sources
Beyond super PACs, other sources of money are at play, including groups like Karl Rove's American Crossroads, which between its super PAC and its nonprofit affiliate Crossroads GPS, has brought in a combined $99.8 million for Republican candidates since the start of 2011.
Public funding in the general election comes in the form of a grant given to a major party nominee if the candidate agrees not to raise or spend outside funds. But with this year's numbers, it seems pretty likely that both Romney and Obama with opt out of public financing.
No general election candidate had ever refused these funds since the program began in 1976, until Obama made the leap in 2008. John McCain accepted public financing.
Given McCain's affinity for campaign finance reform, Allison said it was "awkward for him to raise money in big donations" but that this time around "you wont see any such compunction" from the Republican nominee.
And if the race is close, Romney might be able to tap another source of funds: his own bank account. After all, candidates can fund their own campaigns, and the former Bain Capital CEO is estimated to be worth as much as $264 million.