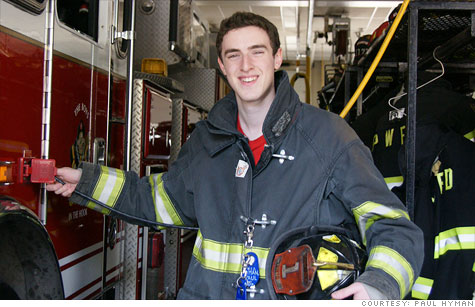 For Paul Hyman, 17, who grew up on Long Island, the opportunity to pitch his business for a full-tuition scholarship was life-changing.
POTSDAM, N.Y. (CNNMoney) -- One of the hottest proposals for a new -- and possibly better -- way to pay for college got one of its most important tests one snowy day this winter in a Clarkson University classroom.
There, five students each nervously pitched what they thought was a revolutionary business idea, including RFID chips that can start cars, a test to find out if windmill turbines are generating the promised electricity, and a better way to supply homesick foreign students with comfort foods.
Clarkson offered the contestants something pretty revolutionary in return. The students with the best business ideas would win full-tuition scholarships to the school -- a prize worth more than $37,000 a year. The only catch: The winners have to give Clarkson a 10% stake in their business.
For Paul Hyman, 17, who grew up on Long Island, the opportunity was life-changing. Hyman, a volunteer firefighter, brainstormed a sensor that could be inserted into the vents of clothes dryers that would send out fire-suppressing carbon dioxide and sound an alarm if the lint was in danger of catching fire, reducing a common cause of house fires.
"To be able to get my business off the ground while receiving my education -- this is an amazing opportunity," he says, noting his siblings left college "tremendously in debt."
As the price of college continues to climb and family incomes shrink, students, government officials and college leaders are desperately seeking new ways to fund college. A growing number are experimenting with "educational investments:" replacing traditional tuition with a claim on a portion of graduates' future income or earnings.
Clarkson, a small private college in upstate New York with 2,850 undergraduates, started with an educational investment in one student in 2010, and is now slowly expanding the program.
At the University of California campuses, where tuition was raised by 70% since 2008, a group of students have proposed a different deferred tuition option called a "student investment." The group, Fix UC, proposes that in lieu of charging tuition, the university collect 5% of a student's income for the first 20 years that they are working post-graduation. Mark Yudof, chancellor of the UC system, has said that the idea is "worth exploring."
Of course, like some of the dodgier ideas pitched by the student entrepreneurs, the idea of allowing students to attend college tuition-free in return for some future payment is fraught with potential financial disaster. Yale tried a version in the 1970s, but so many graduates failed to repay the school that the experiment failed.
And, in 2002, Michael Robertson, a tech entrepreneur who made millions with startups like MP3.com, launched a $3 million educational investment fund to pay the tuition of students at the University of California, San Diego in return for a share of their earnings after they graduated. Unfortunately, the students' first jobs out of college paid so little that it took too long for Robertson to earn any kind of return. "The economics didn't work," he said.
But there have also been some influential supporters and some signal successes. Nobel-prize winning economist Milton Friedman suggested a version - tuition loans to be repaid with a percentage of graduates' income - in the 1950s. Australia, the native country of Clarkson president Tony Collins, has seen its college enrollment increase dramatically since offering a deferred tuition option in which the government deducts a surtax from graduates' paychecks. In 2009, the U.S. federal government added an income-based repayment option to the federal loan program.
Patrick Callan, president of the Higher Education Policy Institute, a California-based education think tank, says that while he doesn't want to give states any cause to further reduce support to higher education, or colleges any incentive to keep raising costs, payment plans based on graduates' incomes could open the doors to college for those who can't currently afford tuition, and allow them to repay without going broke.
Clarkson officials say their version -- in which the college profits if the student succeeds, and suffers if the student fails -- is the best way to improve education while making it more affordable. Clarkson is giving extra counseling and introducing alumni to the first recipient of its educational investment, sophomore Matthew Turcotte, to help him manage and market his web design business.
So far, it seems to be working. Marketing his services to alumni and their connections has helped Turcotte's business grow 800% in the last two years, according to the school. And the extra counseling is helping him maintain an A average.
This alignment of the interests of the student and college "is a game changer" says Clarkson president Collins.
For now, however, Clarkson is starting slow. For the 2012-2013 academic year, the university decided it would only take a risk on two additional students, Hyman, the volunteer firefighter, and a vivacious Clarkson junior, Anna Gladkikh, who proposed creating an online shopping mall for foreign students to buy their favorite goodies from home.
Gladkikh, a native of Belarus, has to volunteer her time for her new business because she doesn't have a work visa. She may also have to leave the country post-graduation.
Matthew Draper, deputy head of Clarkson's Innovation center, said despite the uncertainties about Gladkikh's future, he opted for her because "People invest in people. No matter what the idea, she will be successful."
Listen to some of the Clarkson students' pitches on Marketplace on public radio stations on Wednesday, April 25, or at http://www.marketplace.org/topics/life/education/clarkson-university-backs-student-entrepreneurs.