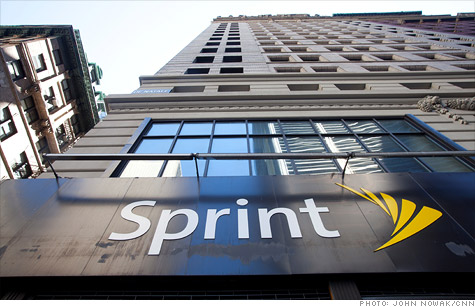 NEW YORK (CNNMoney) -- Losing money and customers have become the status quo for Sprint Nextel. The only question is "how much?"
On the bright side, the nation's third-largest wireless carrier said Wednesday that it shed fewer subscribers and posted a narrower loss than Wall Street analysts had expected.
Sprint (S, Fortune 500) even kept iPhone sales steady, while its bigger rivals Verizon (VZ, Fortune 500) and AT&T (T, Fortune 500) reported a steep drop in the number of iPhones they activated since the prior quarter. Crucially for Sprint, 44% of the 1.5 million iPhones it sold in the first quarter were to new customers.
Those iPhone sales helped drive wireless service sales up 7% to $7.2 billion, and average revenue per user on Sprint's service grew an astounding $4.03 from a year ago. That ARPU growth represented the largest year-over-year increase ever in U.S. wireless industry history, the company said.
Yet Sprint continues to lose customers under contract. That is a key measure of a wireless company's success since those are the customers the carriers can count on for steady revenue. Sprint lost 192,000 customers under contract during the quarter, while Verizon and AT&T both added contracted customers.
That was due entirely due to fleeing customers of the Nextel service, which Sprint is in the process of discontinuing. Nextel lost 455,000 contracted customers during the quarter. Though the Sprint-branded service added 263,000 customers during the quarter, even that wasn't entirely good news, as all but 35,000 of those were former Nextel customers that were switching to Sprint's service.
Sprint's financial loss was almost entirely due to Nextel as well. The company lost $863 million during the quarter, $543 million of which was from a write-down on the Nextel phase-out.
Shares of Sprint dipped slightly in late morning trading Wednesday. The mounting losses remain a huge concern for Sprint, which has an extremely thin cash cushion and continues to rack up hefty capital expenses. The company has just $7.6 billion in cash and continues to raise money through debt to finance its network transition efforts.
The carrier is amid a major overhaul of its network infrastructure, which Sprint calls "Network Vision." Sprint says the effort is necessary to keep pace with Verizon and AT&T's 4G rollouts, but it is extremely expensive, and the worst is yet to come: The company said it spent just $104 million on the project during the past three months, leaving about $1.3 billion remaining to be spent throughout the rest of 2012.
Network Vision isn't the only big expense looming for Sprint. The eventual launch of Apple's (AAPL, Fortune 500) next iPhone will put a big burden on Sprint, which subsidizes the cost of the device.
Sprint estimated in October that it would pay $15.5 billion in up-front iPhone subsidies over the next four years. But the company also said it expects the device to eventually be its most profitable smartphone.
Wireless service profit margins came in at 14.6% for the first quarter. Due to Sprint's slightly lower iPhone sales and the timing of the Network Vision project, that was higher than most analysts expected.
But if the launch of the next iPhone is anything like the iPhone 4S launch, Sprint's wireless margins are in for a tight squeeze.