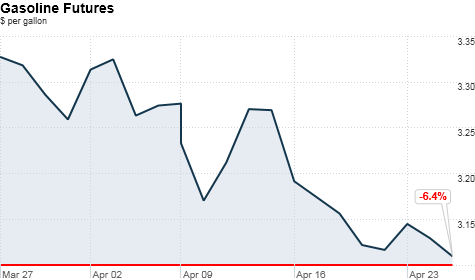 Declining price for crude oil sends gas futures sharply lower, setting the stage for even more relief at the pump.
NEW YORK (CNNMoney) -- A surge in gasoline prices earlier this year sparked talk of $5 a gallon by this summer, but prices at the pump have been ticking lower in April, and it appears they'll continue falling as the driving season approaches.
This rosy scenario is prompted by the fact that the price for one of the most common types of gasoline futures traded in New York has dropped 30 cents, going from over $3.40 a gallon at the beginning of April to $3.10 a gallon Wednesday.
Futures contracts are financial instruments that buyers and sellers of large amounts of gasoline -- or any commodity -- use to set prices. Analysts say the current drop in gas price futures should begin to appear in gas prices at the service station over the next few weeks.
"We're certainly going to see prices move lower at this point," said Stephen Schork, publisher of the industry newsletter the Schork Report. While retail prices are expected to move lower, Schork said the decline might not be as steep those seen in the futures markets.
The main reason for lower gasoline futures prices is the declining cost of Brent crude and other crude oil that gasoline is made from.
Brent crude has dropped from over $125 a barrel in early April to under $120 currently, largely a a result of tensions easing with Iran over its nuclear program. Recent signs of a slowing global economy have also helped push down prices.
Gasoline prices at the pump have begun a similar decline. While much hype was made earlier this year about how gas had run up further and faster than any time before and may even reach a new all-time high of over $4.11 gallon, prices have been slowly declining since touching $3.95 a gallon at the beginning of April. Gas prices currently sit at $3.84, according to AAA.
"If we don't have any supply issues or refinery outages, we've seen the highs for the summer," said Schork.
Of course, the first part of that sentence is a major caveat, as Schork and other analysts point out.
Gasoline stockpiles remain low in Europe and along the East Coast of the United States. Demand from the developing world, meanwhile, remains strong.
Furthermore, analysts are watching for potential supply disruptions that could arise if more refineries close on the U.S. East Coast.
Several East Coast refineries have been idled over that last several months. They are having a hard time making money because they can only process light, sweet -- and expensive -- crude from Europe and Africa.
There's a chance that some of these refineries could close permanently, talking roughly 50% of the East Coast's refining capacity offline.
That could potentially cause a shortfall in gasoline supplies at the wholesale level, at least until transportation logistics to bring gasoline up from the Gulf Coast or elsewhere are ironed out.
"Unplanned refinery outages and a further improvement in the US economy could still create further upside risks to gasoline in May and June," Merrill Lynch analysts wrote in a recent research note.