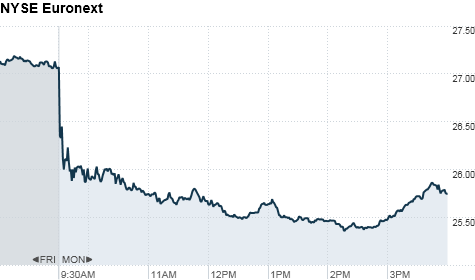 NEW YORK (CNNMoney) -- NYSE Euronext shares fell 5% on Monday after the stock exchange operator reported a sharp decline in quarterly profits on weak trading volume and merger break-up costs.
Shares of the parent company of the New York Stock Exchange were down $1.32, or 4.8%, ending the day at $25.75.
NYSE Euronext (NYX, Fortune 500) reported net income of $121 million, or 47 cents per share, in the first quarter. That was down from $130 million, or 50 cents per share, in the same period a year ago.
Duncan Niederauer, the company's chief executive, said NYSE Euronext faces "near-term headwinds" as it continues to struggle with a "challenging operating environment."
The company said total revenues fell 11% to $601 million, driven mainly by lower average daily volumes across all trading platforms.
The quarterly results also included $52 million in "expenses and exit costs" related to the abandoned merger with Germany's Deutsche Boerse.
NYSE Euronext officially dropped the proposed merger in February after European officials blocked the deal.
Overall, companies that operate exchanges for stocks and derivatives have been struggling with weak trading volumes as investors have been sidelined by the global economic downturn, said Chris Allen, an equity analyst at Evercore Partners.
"Without economic growth, you're going to have more subdued trading activity," he said. In addition, low levels of market volatility and low interest rates have also taken a toll on trading volumes, he added.