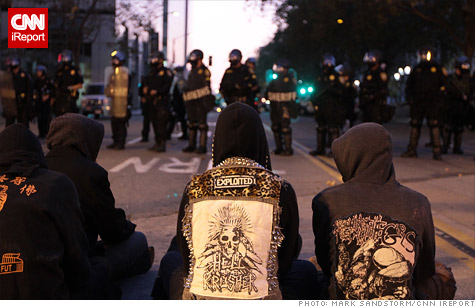 The Occupy movement has lasted more than seven months, and organizers are using May Day as a launchpad for more protests.
NEW YORK (CNNMoney) -- The Occupy movement is organizing a nationwide protest on Tuesday, asking Americans not to attend work or school on a day that's already a progressive holiday overseas.
In what Occupy organizers are calling "a day without the 99%," protesters are planning to participate in a "general strike" on Tuesday: no work, no shopping, no banking.
Organizers in about 125 U.S. cities have planned demonstrations, according to Occupywallst.org, to continue Occupy's protest against societal inequities including distribution of wealth and corporate greed.
May 1 is already a date with strong historical significance overseas, where it's known as International Workers' Day or May Day.
May Day dates back to the 19th century and is considered a national holiday in scores of countries in Europe, South America and Asia. It has roots in the leftist movement, and labor groups and progressive activists traditionally use the day for public demonstrations.
May 1 demonstrations: Planned events include New York's "Occupy Guitarmy," in which Rage Against the Machine's Tom Morello will lead musicians from midtown's Bryant Park to downtown's Union Square. In Los Angeles, protesters are planning a "4 Winds" march to descend on the city from all directions.
Protesters in Oakland, Calif., had originally planned an attempt to shut down the Golden Gate Bridge in support of a local labor union. That plan was called off on Sunday, but organizers in the San Francisco Bay Area have scheduled picket lines and many other demonstrations.
It's unclear how many people will turn out for the various events planned across the country. Organizers of the original Occupy event in September called for 20,000 people to descend on Wall Street. A few hundred turned out for Day 1 but it kickstarted a movement that garnered widespread public attention. (See correction below.)
For May Day, Occupy organizers have called specific attention to Chicago because the city is hosting the NATO Summit on May 20. The magazine Adbusters, which spearheaded the original Occupy Wall Street event, called Chicago "the focal point of this global spiritual insurrection" because of the summit.
History of Occupy: The Occupy movement kicked off in New York City on September 17.
Occupy bills itself as leaderless, and opponents immediately criticized it for a perceived lack of concrete goals. But it found solidarity in labor unions and other activist groups, and the movement spread quickly through social media.
The first site of protest, Occupy Wall Street, began when hundreds of protesters descended on the nation's financial center. A few weeks after it began, Occupy Wall Street faced the first of a series of evictions from its home base in a lower Manhattan park. But protesters regrouped in other areas.
And by then, solidarity protests had popped up in San Francisco, Denver, Los Angeles, Boston and Chicago, among other cities.
The relative calm of the protests began to shatter in October, when hundreds were arrested on the Brooklyn Bridge as part of Occupy Wall Street.
Also in October, the site in Oakland became violent when police used tear gas after protesters reportedly threw paint and other objects at officers. Major clashes between police and protesters have taken place in Oakland since that event, and hundreds of people have been arrested.
Critics questioned whether those skirmishes would derail Occupy, and whether protesters would be willing to remain outside in the winter. But Occupy sites in many cities remain active -- perhaps helped by unseasonably warm weather.
If May Day is a success, it could give the seven-month-old Occupy a resurgence in the public eye -- and, organizers hope, to the issues the movement aims to highlight.
Correction: An earlier version of this article incorrectly reported how many protesters Adbusters called for at Occupy's original September event.