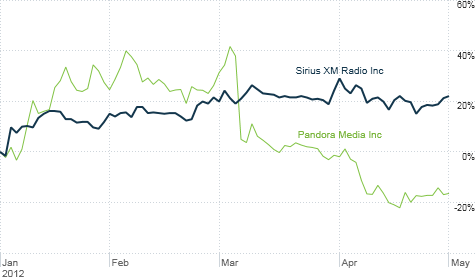 Satellite radio leader Sirius XM is profitable and its stock is soaring. Internet radio leader Pandora is losing money and its stock has suffered.
NEW YORK (CNNMoney) -- Investors have fallen in love with SIRI.
No, I'm not referring to the nice "lady" on Apple's iPhone 4S who helps Samuel L. Jackson make mushroom risotto and gazpacho. I'm talking about Sirius XM, the satellite radio company that reported stronger than expected sales, subscriber growth and earnings Tuesday morning.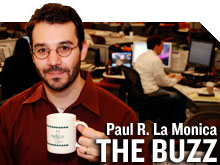 Shares of Sirius XM (SIRI) were up slightly Tuesday and have now gained 25% so far this year. Sirius XM is still is trading well below its all-time highs from 2000. But the company has enjoyed a remarkable rebound after many investors left it for dead during the worst of the Great Recession three years ago.
Sirius XM has finally become a company that generates real profits. You can actually value the stock with tried and true metrics like a price-to-earnings ratio. On that basis, Sirius XM still looks a tad expensive ... but not absurdly so.
Shares trade at 32 times 2012 earnings estimates. That's a lot pricier than the broader market, not to mention tech giants like Apple (AAPL, Fortune 500) and Google (GOOG, Fortune 500).
Sirius XM also trades at a premium to other pure play publicly traded radio companies like CC Media Holdings (CCMO, Fortune 500) (the old Clear Channel) and Cumulus Media (CMLS) as well as media giant CBS (CBS, Fortune 500), which has a big radio operation.
But analysts do expect earnings to grow at a nearly 20% clip a year, on average, for the next few years. John Tinker, an analyst with Maxim Partners in New York, wrote in a report Tuesday that Sirius XM deserves a higher valuation than traditional radio companies due to its better growth prospects.
And compared to the new kid on the mobile music block, Sirius XM is a downright bargain. Internet radio service Pandora (P), which went public last year, is not expected to generate profits this year. It is trading at more than 290 times earnings estimates for the fiscal year that ends in January 2014.
I think that Sirius XM's business model makes a heck of a lot more sense than Pandora's.
Sure, Sirius XM has to spend an exorbitant amount of money on content such as Howard Stern, Oprah Winfrey and Martha Stewart as well as on deals to air games from all the major sports leagues. But it's the availability of all that exclusive programming that justifies the monthly subscription for the more than 22 million customers.
With Pandora, there isn't really anything about the content that you can't get anywhere else, especially now that Swedish music service Spotify has made a big splash on U.S. shores.
Pandora does have a subscription service that lets you avoid commercials, which could be a selling point compared to traditional free "terrestrial" radio. But Pandora still generates more than 85% of its total revenues from advertising.
Clearly, most subscribers are willing to tolerate the interruptions from sponsors. And advertising is a far more fickle revenue stream than monthly fees. Sirius XM, by way of comparison, gets just 2.4% of its revenue from ads. Its paid subscriber base just hit a record high in the first quarter --- despite price hikes.
Sirius XM, in some respects, is also a poor man's way of investing in the continued resurgence of Detroit's Big 3 .. and the auto industry in general.
The company has deals with Ford (F, Fortune 500), GM (GM, Fortune 500), Chrysler as well as Japan's Honda (HMC), Toyota (TM) and Nissan and Korea's Hyundai to have radios pre-installed in their vehicles. Auto sales are up in the U.S. from a year ago. If that trend continues, that should bode well for Sirius XM.
Still, investors have to be careful. It appears that one of the reasons the stock is up so much this year has nothing to with fundamentals. Sirius XM is routinely one of the most actively traded stocks on Wall Street because it almost has as many shares outstanding as there are people on the planet.
Okay. That's a bit of an exaggeration .. but not that much. Sirius XM finished the first quarter with more than 3.7 billion basic shares outstanding and 6.5 billion diluted shares. Many investors are hopeful that Sirius XM will buy back some stock to reduce the share count ... a move that would boost earnings per share.
But it's not that simple. Liberty Media (LMCA), the conglomerate controlled by mogul John Malone, currently has a preferred stake in Sirius XM that, if converted, would amount to a 40% ownership stake of the common stock.
Liberty, which made its investment in Sirius XM back in 2009 when the stock was near 5 cents a share and investors were worried about bankruptcy, arguably saved the company with its backing.
However, Liberty and Sirius XM are now battling over the future of the company. Liberty has applied to the Federal Communications Commission for so-called de facto control of Sirius XM's licenses. David Joyce, an analyst with Miller Tabak + Co. in New York, wrote in a report Tuesday that until this spat is resolved, "this takes the prospect of SIRI stock buybacks off the table for now."
Of course, this could still end well for Sirius XM shareholders. Malone, who's not known for backing down from a fight, could wind up ultimately agreeing to buy the remainder of Sirius XM at a higher price down the road.
After all, current CEO Mel Karmazin's contract expires at the end of this year. If Karmazin, who also doesn't have a reputation as a shrinking violet in media circles, doesn't renew his deal with Sirius XM, that could conceivably make it easier for Liberty to take over a majority interest in the firm.
But the Karmazin-Malone drama and hopes for a big stock buyback may be just a side show for investors.
It all boils down to consumer spending -- and auto sales in particular -- for Sirius XM. As long as the U.S. avoids a nasty economic pullback, Sirius XM should continue to add subscribers, boost revenue and remain profitable.
Sirius XM really has come a long way from the days when people (like me, I will admit) openly wondered if the company could survive.
Best of StockTwits: A private equity firm is paying a pretty penny for a Chinese food restaurant chain. Domno's (DPZ) doesn't deliver. And investors are scratching their heads over Delta's (DAL, Fortune 500) curious purchase of an oil refinery.
conorsen: The $PFCB price boggles the mind: almost 23x peak profits, no growth. Cheap money makes a lot of things economical, but still.
It is amazing to see Centerbridge is willing to pay more than $1.1 billion (a 30% premium!) for PF Chang's (PFCB), a company that isn't exactly thriving. But I guess the PE firms need to do something with their war chests.
BrianSozzi: Cash is king, and private equity firms sure have the green to put to work (and have to put it to work). $PFCB
Speaking of another food company that's not doing too well lately ...
ldrogen: huge miss by $DPZ, growth slowing, and it wasn't just harder comps
Domino's had rebounded over the past few years thanks to an ad campaign that was pretty risky. The pizza maker candidly admitted that its food was not that good and they were making bold improvements to the menu.
I think people appreciated such blunt honesty. But has the easy, uh, dough, been made in this stock now? Shares soared last year.
DavidSchawel: Pickens: "Delta buying a refinery is like me buying an airline - it makes zero sense" $COP $DAL
The move by Delta is either a stroke of genius or a term that begins by referring to the excrement of a certain flying mammal and ends with the word crazy. Many, including me, seem to think the latter.
lamonicabuzz: Sorry I was out yesterday. The Buzz was doing due diligence on buying an oil refinery so I can lower my family's fuel costs. $DAL $COP $PSX.
The opinions expressed in this commentary are solely those of Paul R. La Monica. Other than Time Warner, the parent of CNNMoney, and Abbott Laboratories, La Monica does not own positions in any individual stocks.