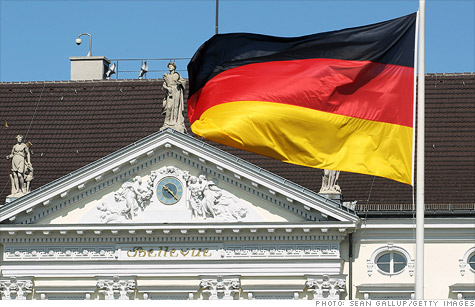 Germany is the largest economy in the euro area and the fourth largest worldwide. Economists say it might be headed for recession, albeit a short one.
NEW YORK (CNNMoney) -- As recession spreads across Europe, Germany may not be able to avoid being dragged down.
In the past week, Spain and the United Kingdom revealed that they had slipped back into recession, with two straight quarters of economic contraction.
In all, 12 European economies are now officially in recession.
Germany, the largest euro economy and the fourth largest worldwide, could be next: Its economy shrank 0.2% in the last three months of 2011, and it is expected to show another contraction when it releases data for the first quarter in mid-May.
"It's quite likely the German economy also contracted at very modest pace in the first quarter, which would technically fulfill the recession criteria," said Christian Schulz, a London-based economist at Berenberg Bank, the oldest private bank in Germany.
Overall, the eurozone economy is expected to suffer a mild recession this year as government austerity programs -- tax hikes and spending cuts -- take a toll on growth.
The relatively healthy Germany does not need to subject its economy to the same painful austerity reforms it has urged other nations to embrace.
But the slowdown in the eurozone has taken a toll on Germany's export-dependent economy.
"We're learning just how bad austerity is during an economic downturn," said Hans-Joachim Voth, a professor of finance at Universitat Pompeu Fabra in Barcelona.
German exporters have also been hurt by the slowdown in emerging economies, such as China and India.
Voth does not expect domestic consumption in Germany to offset declining exports: "Germans are very bad at having a party," Voth said, meaning they are typically frugal to begin with.
At the same time, it's unclear how much support the European Central Bank will provide. The ECB's bank lending programs earlier this year lent important support to Europe's economies.
"German domestic consumption is not going to explode," said Voth. "Add to that the uncertainty in financial markets and the declining impact of the ECB's liquidity program, and it's not going to be pretty."
Weakness in Germany would have a negative effect on the region. The German economy accounts for a third of eurozone output, so a recession there "will have quite a bit of an impact and clearly make it worse than expected," said Natascha Gewaltig, director of European economics for Action Economics.
Still, a sharp downturn is not in the cards.
While manufacturing activity in Germany unexpectedly declined in April, two measures of business and investor confidence have been surprisingly upbeat.
And Germany remains highly competitive and any recession there will probably be short-lived, according to Schulz. He expects growth to resume in the second quarter and accelerate later in 2012.
"The overall fundamentals for Germany are very positive," said Schulz. "The economy is being held back by a lack of confidence that the euro crisis will be solved."