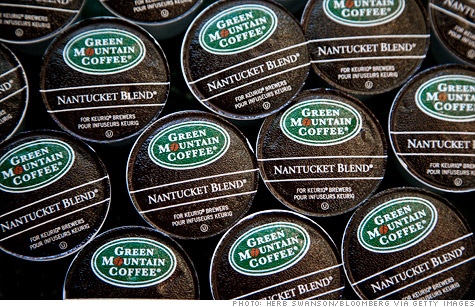 It's been a rough ride for Green Mountain shares over the past few months.
NEW YORK (CNNMoney) -- Green Mountain Coffee Roasters shares plummeted Thursday after the company reported quarterly revenue that missed estimates and lowered its guidance for 2012.
Green Mountain (GMCR) shares sank nearly 40% in early morning trading Thursday, dipping to about $30 after closing Wednesday at $49.52.
The company's quarterly earnings came in line with expectations at 64 cents a share, though its $885 million in sales missed estimates of $972 million.
Green Mountain also reduced its fiscal 2012 sales guidance from between $4.3 and $4.5 billion to between $3.8 and $4 billion. The full-year earnings-per-share projection was cut from between $2.55 and $2.65 to between $2.40 and $2.50.
In a conference call with analysts, Green Mountain executives said they didn't have a full explanation for why sales were weaker than expected. They suggested that low brewer machine sales and weak demand for holiday drinks during the warm winter -- like cider and hot cocoa -- were partially to blame.
"We're very positive about this business going forward, but there's a lot of moving parts," Green Mountain CEO Larry Blanford said.
Green Mountain currently dominates the single-serving coffee market with its popular Keurig, or K-Cup, machines.
It was one of the fastest-growing companies of the past decade and one of the best-performing stocks, handing investors 110% gains on an annualized basis until last fall.
Things changed in October, when hedge fund manager David Einhorn of Greenlight Capital outlined a case for why Green Mountain would see its market share crumble, citing its expiring patents. He also raised concerns about the firm's accounting.
More recently, Green Mountain's stock took a hit after Starbucks (SBUX, Fortune 500) unveiled its own single-cup home-brewing machine. Shares gained some of this ground back after the two companies announced they were joining forces to sell Starbucks-branded single-serving coffee packs for Green Mountain's newest coffee machine, the Vue.
Green Mountain and Starbucks first paired up to sell Starbucks' coffee in Green Mountain K-Cup machines in March 2011.