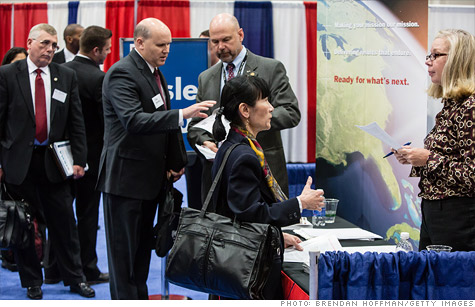 NEW YORK (CNNMoney) -- Private companies are pulling back on hiring.
Businesses added just 119,000 jobs in April, according to a report issued Wednesday by payroll-processing company ADP. The number fell far short of the 170,000 jobs economists were expecting.
Earlier this year, the same report showed companies added 201,000 jobs in March and 228,000 jobs in February.
"Those employment gains are not enough to get us back to full employment," said Joel Prakken, chairman of Macroeconomic Advisers. "I don't consider this to be a good number. It's tepid."
The warm winter could be to blame for the sudden slowdown in job growth in the spring, he said.
"There is some evidence that unusually warm weather boosted employment during the winter months, with a 'payback' now coming due," Prakken said, pointing to the construction industry in particular.
Construction firms added more jobs than usual early in the year and then cut 5,000 jobs in April. Warmer weather may have simply allowed them to build more in the winter, Prakken said.
Small companies -- those with fewer than 50 employees -- hired 58,000 people in April, while large companies with 500 or more employees hired only 4,000 new workers.
Medium-sized businesses added 57,000 to their payrolls.
The ADP report typically sets the tone for the government's highly anticipated monthly jobs report, due Friday.
Economists surveyed by CNNMoney expect the Labor Department's data to show 160,000 jobs added in April, including 165,000 from the private sector and a loss of 5,000 government jobs.
The unemployment rate is not expected to fall beyond its current 8.2%, unless more workers leave the labor force.