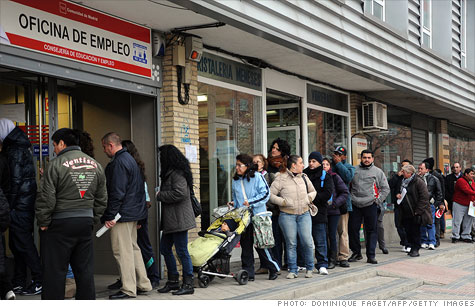 Eurozone unemployment hit a record in March, with Spain's 24.1% rate setting the pace.
NEW YORK (CNNMoney) -- Unemployment in the eurozone rose to 10.9% in March, another sign of the broad economic weakness and possible recession across the continent.
The unemployment rate across the broader 27-nation European Union remained at 10.2% in March, according to a organization report Wednesday.
But the 17-nation eurozone unemployment edged up from 10.8% in February. The EU and eurozone rates are the highest since the creation of the common euro currency in 1999.
There are now 13 nations in Europe struggling with double-digit percentage unemployment, led by a 24.1% rate in Spain, which was a record high, and 21.7% in Greece.
The rising jobless rates are primarily blamed on the ongoing European sovereign debt crisis, which has forced governments to take tough austerity measures to cut spending.
There are 12 countries in Europe that have had two or more consecutive quarters in which their gross domestic product has dropped -- a condition many economists say define a recession. Nine of the countries are in the eurozone, and three use their own currency.
The United Kingdom, which had an 8.2% unemployment rate in its most recent reading, is the largest economy now in recession.
The entire EU and and eurozone are widely believed to be in recession as well, a fact likely to be confirmed when their combined GDPs are reported on May 15.
Even some of the healthier countries in Europe are likely to meet that criteria, including Germany, the EU's largest economy and one in which unemployment is 5.6%, the fourth-lowest rate on the continent.
German GDP declined 0.2% in the fourth quarter and many economists are forecasting another drop in the first quarter, suggesting Germany could be in recession soon.
By contrast to Europe, the U.S. unemployment rate has been steadily falling, reaching 8.2% in March. The jobless rate here reached a 26-year high of 10.0% in October 2009, but it has declined in six of the last seven months, shaving almost a full percentage point off the 9.1% rate of last August.
Economists surveyed by CNNMoney forecast that the rate will stay unchanged in the April jobs report this Friday, while hiring is expected to pick up to a gain of 160,000 jobs.