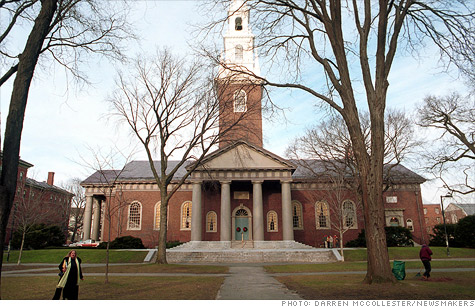 The first official set of edX courses will be announced this summer, and will begin in the fall.
NEW YORK (CNNMoney) -- Always wanted to take a Harvard class? Soon you'll be able to do so from the comfort of your own home.
Harvard and MIT announced a partnership Wednesday to offer free online courses to students around the world. The initiative, known as edX, will be run by a non-profit organization controlled by the two schools. Each has committed $30 million to the effort.
The first official courses will be announced this summer and are set to begin in the fall.
EdX students won't receive university credit for the classes, which will span a variety of disciplines. There's no admissions process, but there are exams and other assessments, with certificates available "for a modest fee" to students who demonstrate mastery of the material.
The project builds on an online education program that MIT announced last year. A prototype course on circuits and electronics began in March and attracted more than 120,000 students, though only about 10,000 stayed with the course through the mid-term exam, an MIT spokeswoman said.
The Harvard-MIT project faces some competition in the push to make high-quality educational courses available online.
Last month, Princeton, Stanford, Michigan and the University of Pennsylvania announced that they would offer free Web-based courses through a for-profit company called Coursera that was founded by two Stanford computer science professors. One of those professors, Andrew Ng, taught a free online course in machine learning this past fall with an enrollment of more than 100,000 students.
There's also Udacity, co-founded by a former Stanford professor, and Khan Academy, which boasts 3,100 free educational videos across a variety of subjects.
MIT and Harvard said that they hope to eventually partner with other universities to expand the offerings on the edX platform.
"Harvard and MIT will use these new technologies and the research they will make possible to lead the direction of online learning in a way that benefits our students, our peers, and people across the nation and the globe," Harvard president Drew Faust said.