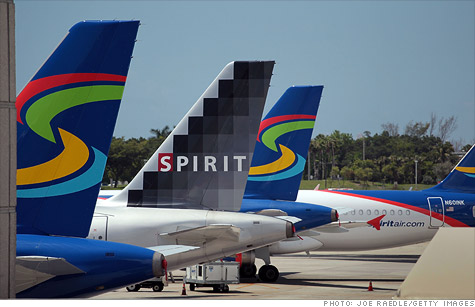 Spirit Airlines will charge $100 for carry-on baggage purchased at the gate, starting Nov. 6.
NEW YORK (CNNMoney) -- Spirit Airlines will raise its fee for carry-on bags to up to $100, becoming the first U.S. airline to charge so much for a service that most other airlines offer for free.
Spirit said on its website that the new fees apply to carry-on bags registered at the gate and will become effective Nov. 6. Until that time, Spirit will continue to charge $45.
"We don't want any of our customers to wait until they get to the boarding gate to pay for their carry-on bags as this delays the boarding process for everyone," said Misty Pinson, a Spirit Air spokesperson.
"We expect that our new $100 fee charged for those who wait until they get to the gate will ensure that customers purchase their bags before arriving at the gate," she said.
According to its website, Spirit passengers can save money by paying the fees in airport kiosks, which charge $40 for a carry-on bag, a fee that will rise to $50 on Nov. 6. On that day, Spirit Airlines will be raising a wide swath of fees for checked luggage and other services.
Tom Parsons, chief executive of Bestfares.com, referred to the carry-on baggage fees as "skyway robbery."
"Many people won't realize the fee until they get to the gate," said Parsons. But he added that most people will ditch the line and go back to a kiosk to avoid paying the extra money.
Baggage fees are among the airline industry's so-called ancillary fees. In recent years, many airlines started charging fees for services that used to come for free, like pet travel and non-alcoholic drinks.
Some airlines, like the European carrier Ryanair, charge low base fares and seek to make their money through a plethora of fees. But airlines Southwest (LUV, Fortune 500) and JetBlue (JBLU) do not impose fees for carry-ons, or for the first checked bags. In addition, Southwest doesn't charge for the second checked bags.
The airline industry began to adopt the new fees in 2008 to try and take the sting out of rising fuel prices. The fees can bring in billions of dollars for the industry.
Climbing fuel costs have put the squeeze on Spirit so far this year. In its first quarter earnings report on May 1, Spirit said that its fuel expenses had jumped dramatically to $108 million, compared to $81.5 million in the year-ago quarter.
In its 2012 earnings statement, Spirit did not break out revenue from baggage fees. But the airline reported revenue of over $121 million -- about 40% of its total revenue -- from ancillary fees, which include baggage fees.
The airline industry has struggled in recent years, prompting some carriers to consolidate to become more competitive.
American Airlines, which went into bankruptcy last year and lost $1.7 billion in the first quarter, faces a possible merger with US Airways (LCC, Fortune 500).
The last big airline merger was completed in 2010, when United Continental Holdings (UAL, Fortune 500) was formed.