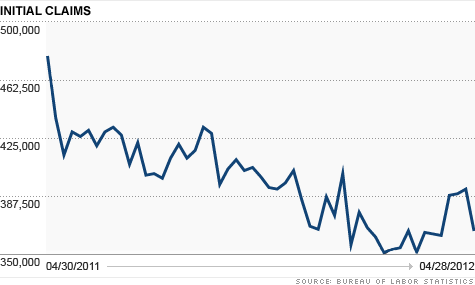 First-time claims for unemployment benefits fell to their lowest level in a month last week.
NEW YORK (CNNMoney) -- Fewer Americans filed for unemployment benefits last week, a welcome sign after claims had previously risen four weeks in a row.
About 365,000 people filed for their first week of jobless benefits, a significant drop from 392,000 claims filed the week before, the Labor Department said.
Economists surveyed by Briefing.com had expected 375,000 initial claims.
Jobless claims are considered a key measure of the job market, strongly correlated with the number of layoffs in the economy. While last week's drop was seen as an encouraging sign, it's also too soon to tell whether claims are returning to a downward trend.
"The question is where is the trend going forward," said Brett Ryan, U.S. economist with Deutsche Bank. "We think the labor market continues to remain healthy and we expect claims to edge lower."
Initial claims can be volatile, especially in the spring when Easter and schools on spring break often throw off the seasonal adjustments.
That's because many states allow school contract workers -- like bus drivers and cafeteria workers -- to apply for unemployment benefits if school is out of session temporarily. Easter falls on a different week each year, as do school breaks, making it hard for economists to adjust for this phenomenon.
"Since the Easter holiday moves around on the calendar, the seasonal effects are difficult to nail precisely and the Department of Labor usually has trouble getting the seasonal factors right," Ryan said.
For that reason, economists prefer to look at a four-week moving average, which increased to 383,500 last week, up marginally from the previous week's average.
Meanwhile, 3,276,000 people filed for their second week of unemployment benefits or more in the week ended April 21, the most recent data available. That marks a 53,000 decrease from the prior week.
Recent mixed economic signals have brought a lot of speculation over Friday's report from the Department of Labor. Rising claims earlier in April had led some economists to believe hiring remained sluggish during the month.
Economists surveyed by CNNMoney expect the Labor Department's data to show 160,000 jobs added in April. The unemployment rate is not expected to fall beyond its current 8.2%.