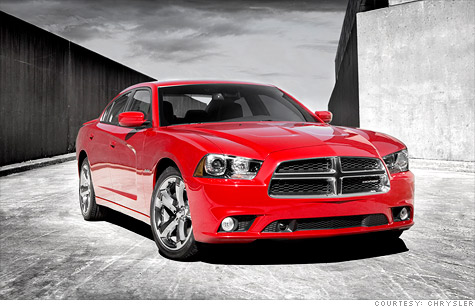 Some 2012 Dodge Chargers and Chrysler 300s are included in the recall.
NEW YORK (CNNMoney) -- Chrysler Group is recalling about 119,000 model year 2011 and 2012 Chrysler 300 and Dodge Charger sedans in the United States because of a problem that could cause the anti-lock brakes and electronic stability control systems to malfunction.
Anti-lock brake systems pump a car's brakes extremely rapidly in order to prevent the wheels from "locking up" during hard braking. Locking up can lead to loss of control and longer stopping distances because it can cause a car to skid.
Electronic stability control systems, which also use computerized brake controls, intervene to prevent a car from skidding during sharp turns or abrupt maneuvers.
In the recalled cars a fuse for the computer controller that operates those safety systems can overheat, causing it to lose effectiveness.
Owners will be asked to bring their vehicles to Chrysler dealers to have the fuse replaced. The new fuse will be mounted in a different location inside the car where it won't be subject to extreme temperatures.
The problem was first discovered on Dodge Charger police cars. Chrysler engineers initially believed the problem was confined to police models. Further research, however, showed that civilian cars were also experiencing the problem.
Although they look different, the Dodge Charger and Chrysler 300 are both based on the same underlying engineering.
"Despite a small number of incidents, we concluded it was in the best interest of our customers to repair the vehicles and eliminate the potential for this condition to occur," David Dillon, Chrysler's head of product investigations and campaigns said in a statement.
No accidents or injuries have been reported as a result of the problem, according to Chrysler.