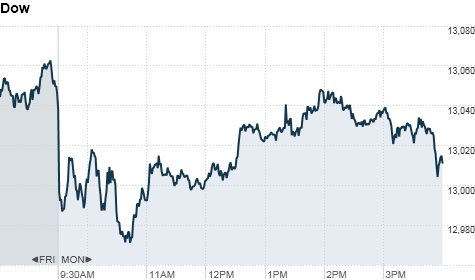 Click the chart for more stock market data.
NEW YORK (CNNMoney) -- U.S. stocks recovered Monday afternoon from modest losses earlier in the day, as investors considered the implications of leadership changes in France and Greece.
The Dow Jones industrial average (INDU) finished down 30 points, or 0.2%, while the S&P 500 (SPX) added less than half of a point and the Nasdaq (COMP) composite rose 1 point, or 0.1%. All three indexes started the day in the red, falling as much as 0.5%.
The swing from negative to positive territory mirrored the move in European markets. Stocks in France and Germany initially tumbled about 2% Monday, but bounced back as investors continued to digest the results. The DAX (DAX) in Germany finished up 1.8%, while France's CAC 40 (CAC40) rose 0.1%. British markets were closed for a holiday.
"The good news is that markets are reacting in a very mature fashion," Pimco Chief Executive Mohamed El-Erian told CNN International Monday. "The bad news is we have a lot of political uncertainty ahead of us still."
In France's presidential election, Socialist Francois Hollande defeated incumbent Nicolas Sarkozy, leaving investors worried about the future of austerity throughout Europe.
Unlike Sarkozy, Hollande advocates for more economic stimulus, but the extent to which Hollande will push his growth agenda remains to be seen. Still, his differing approach causes concern about how he might work with German Chancellor Angela Merkel, the key proponent of austerity.
"My belief is that this change in leadership won't be as terrible as the market initially thought," said Donald Selkin, chief market strategist at National Securities. "I don't see how austerity is the answer for countries like Italy, Spain and Greece. To get them out of the mess they're in, they need some economic stimulus."
While Hollande was leading the polls ahead of the election, and investors expected his win, "change breeds nervousness," said Anthony Conroy, head trader at ConvergEx Group.
In the Greek elections, the two most established parties both lost seats in parliament, leaving no party with anything close to the majority needed to form a government. The vote could set the stage for a new round of elections and could prolong uncertainty as to how Greece will comply with terms of the European bailout package.
U.S. stocks sold off Friday, ending the week lower, after the government's April jobs report came in weaker than expected.
Companies: Shares of Tyson Foods (TSN, Fortune 500) popped after the company posted better-than-expected results, and said it expects momentum to continue in the second and third quarters.
Shares of bailed-out insurer AIG (AIG, Fortune 500) fell, after the Treasury Department announced that it was planning to sell 163.9 million shares for $30.50 each -- down from Friday's closing price of $32.83.
Dow component Walt Disney (DIS, Fortune 500) rose after its film "The Avengers" smashed opening weekend box office records, with $200.3 million in domestic ticket sales. The numbers came in far above the previous record of $169.2 million set by "Harry Potter and the Deathly Hallows Part 2" last July.
Shares of Cognizant Technology Solutions (CTSH, Fortune 500) tumbled after the company lowered its full-year outlook.
Currencies and commodities: The dollar was higher against the euro and the Japanese yen, but was slightly lower versus the British pound.
Oil for June delivery continued to drop below the $100 a barrel mark it reached on Friday, falling 55 cents to settle at $97.94 a barrel.
Gold futures for June delivery fell $6.10 to settle at 1,639.10 an ounce.
Bonds: The price on the benchmark 10-year U.S. Treasury barely rose, and the yield held steady around 1.88%.
Economy: Consumer credit rose by $21.3 billion in March, nearly twice as much as expectations. Analysts surveyed by Briefing.com were forecasting consumer credit to expand by $11 billion in March, after an $8.7 billion increase in the month prior.
World markets: Most Asian markets ended sharply lower. While the Shanghai Composite (SHCOMP) closed unchanged, the Hang Seng (HSI) in Hong Kong lost 2.6% and Japan's Nikkei (N225) dropped 2.8%.
In addition to election results in Europe, Asian markets were also reacting to Friday's weak U.S. jobs report, which was released after their markets had closed for the week.
Are you worried about how the 2012 presidential election will impact your investment portfolio? Which candidate do you think will be better for the stock market? E-mail Hibah.Yousuf@turner.com for the chance to be included in an upcoming story.