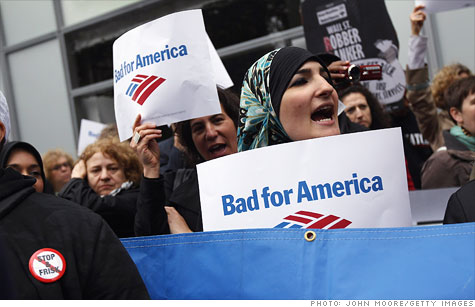 Protesters march outside of Bank of America's New York offices ahead of Wednesday's shareholder meeting.
NEW YORK (CNNMoney) -- The 99% are preparing to occupy Charlotte, North Carolina, home of Bank of America's corporate headquarters, ahead of the bank's annual shareholder meeting Wednesday.
Members of the 99% Power Coalition, which is organizing the events, said they expect nearly 1,000 individuals to arrive in Charlotte to protest Bank of America's (BAC, Fortune 500) foreclosure practices and its investment in coal mining, several members of the group said on a call with reporters Tuesday.
The organization has held similar protests outside the shareholder meetings of Wells Fargo (WFC, Fortune 500) and General Electric (GE, Fortune 500) that have drawn hundreds of people. The organizers said they expect Bank of America's meeting to draw the largest crowds of all.
"We see Bank of America as the worst of the worst," said Amanda Starbuck, a director at the environmental advocacy group, Rainforest Action Network, which is organizing the protests. "There's a lot of momentum around Bank of America."
In response, the city of Charlotte is beefing up police presence in a two-block radius surrounding the bank's headquarters, where the meeting will be held. Earlier in the year, the city deemed it an "extraordinary event," which allows the Charlotte police force to reallocate officers as it sees fit, according to a spokesperson for the mayor's office.
Additionally, members of the 99% Coalition said that Bank of America is paying for additional security around the meeting. The bank hired off-duty Charlotte police officers to sit inside the meeting, as well as a private security firm to work outside.
Bank of America declined to comment on the hiring of private security. A spokesperson for Charlotte's mayor said that off-duty police officers can be hired by private companies.
Meanwhile, members of the 99% Power Coalition said they'll do several marches ahead of the 10 a.m. meeting and protest outside. Plus, members of their organization that own shares plan to go inside to ask questions of Chief Executive Officer Brian Moynihan.
"We're taking a chance to almost bypass the political protests and go directly to the corporations," said Starbuck.
Battles both outside and inside shareholder meetings have been heating up this year. At the annual meeting for Citigroup (C, Fortune 500), shareholders voted against CEO Vikram Pandit's $15 million pay package. That shareholder vote is not binding and Citi has yet to decide if it will uphold Pandit's compensation.
While shareholders could disrupt presentations at the shareholder meeting, analysts are not expecting CEO Brian Moynihan's pay package to be voted down.
Still, members of the 99% Power Coalition said they will continue to push Moynihan and other Bank of America executives on the issue of lowering principal payments on mortgages that are underwater; paying their "fair share of taxes;" and its financing of coal operations.