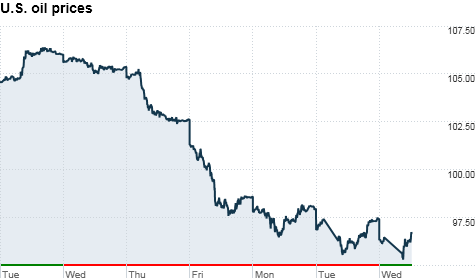 Click the chart for more info on commodities prices.
NEW YORK (CNNMoney) -- Oil prices extended their slide Wednesday, shedding an additional 1.3% amid renewed concerns about Europe and the global economy.
Prices for U.S. crude have declined almost $10, or roughly 9%, over the past six trading days, to $96.81 a barrel.
Much of the recent decline stems from concerns about the U.S. economy and easing worries about a confrontation with Iran. But the downward momentum was further propelled by the European elections this past weekend.
In Greece, a potential political stalemate looms after Greece's main center-right party failed to form a coalition government. With voters signaling their opposition to the austerity measures imposed as part of the country's international bailout, it appears more likely that Greece could exit the eurozone and trigger further instability in Europe's periphery.
In France, the election of austerity-skeptic Francois Hollande has led to questions about Europe's policy coordination moving forward.
"Investors want clarity, and certainly there's very little to be had," said James Cordier, president of Liberty Trading Group. "There are so many moving parts right now."
Beyond U.S. crude oil, those same macroeconomic concerns spilled over to other commodities markets Wednesday.
With European worries ascendant, the dollar gained strength, pushing gold prices down to their lowest level since January. Copper, a crucial component in industrial production, also lost ground.
Among U.S. stocks, shares of commodity-related firms, such as Alcoa (AA, Fortune 500) and Dow Chemical (DOW, Fortune 500), faltered along with the broader U.S. stock market.
On the flip side, worries about $5 gas have receded as oil prices decline, giving consumers something to cheer about.
Retail gas prices fell 1.3 cents Wednesday to a nationwide average of $3.75 a gallon, according to AAA. That's down 4.5% from $3.927 a month ago.