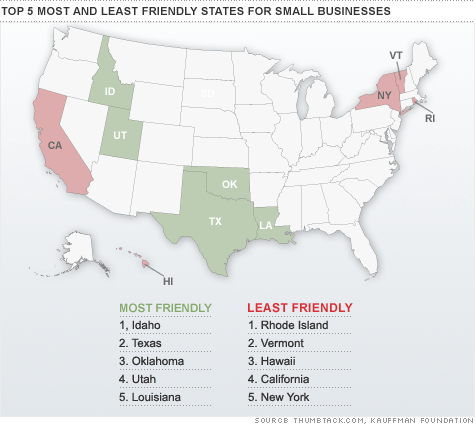 NEW YORK (CNNMoney) -- Small businesses ranked Idaho as the friendliest state to set up shop, according to a survey released Tuesday.
Other states in the top 5 were Texas, Oklahoma and Utah -- all of which scored an "A+" -- and Louisiana which scored an "A," according to the poll by Thumbtack.com and the Kauffman Foundation.
Overall rankings were based on how firms rated their state's support of small businesses, how easy they think it is to start a new business there, and whether they'd encourage others to do the same, according to Thumbtack.com, an online matchmaker that connects service professionals, including accountants, freelancers and electricians, with prospective customers.
In other categories, Idaho also won A+ scores from small businesses for the friendliness of its tax code and regulations. It got a "D," though, for new-employee hiring costs. Texas, Oklahoma and Utah got mostly A's and B's in those categories.
The least friendly state to small business overall was Rhode Island, according to the survey. Vermont, Hawaii and California also scored an "F," while New York earned a "D."
Among cities, small businesses picked Oklahoma City, Dallas-Fort Worth, San Antonio, Austin and Atlanta as the five most friendly to them.
The five least friendly cities were Sacramento, San Diego, Los Angeles, Tucson and Detroit, according to the survey.
More than 6,000 small businesses in Thumbtack's database of 275,000 members -- most of whom have five employees or less -- responded to the survey. Entrepreneurs from all 50 states replied, but the ranking excluded Alaska, North Dakota, South Dakota, West Virginia and Wyoming because they received fewer than 10 respondents.
The Kauffman Foundation, a nonprofit that focuses on fostering U.S. entrepreneurship, helped with methodology and analytical expertise.