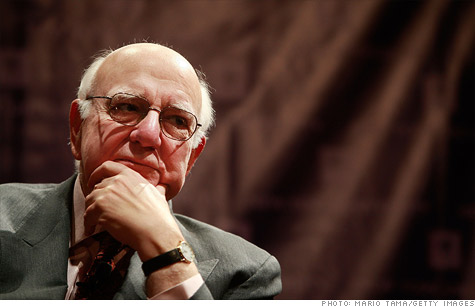 Former Fed chairman Paul Volcker says the banks are too big, but doesn't think regulators need to break them up beyond the limits in Dodd-Frank.
WASHINGTON (CNNMoney) -- Former Federal Reserve Chairman Paul Volcker told lawmakers at a hearing Wednesday that the big banks are too big, but he stopped short of endorsing measures that force the banks to be broken up.
In a Senate Banking hearing about limiting government support for the banking system, Volcker was asked whether he'd prefer a system that was less consolidated in the hands of several giant banks.
"If you ask me if I would prefer a banking system that's more decentralized, of course I would," Volcker said. "But I think we can live with what we have."
Ever since the financial crisis there has been much talk about whether the federal government should go further to break up the big banks that dominate the U.S. financial services industry.
Wall Street reforms ushered in with the Dodd-Frank Act limit risk associated with the big banks by requiring larger capital cushions and shining a light on trading of derivatives, which are currently unregulated.
The Dodd-Frank Act also puts in place the Volcker Rule, which attempts to prevent the largest banks from making trades on their own accounts. It also limits their ownership of hedge funds.
Volcker said he thinks Dodd-Frank puts enough tools in place to make the U.S. system safer than it was. He also pointed out that the U.S. financial reforms were negotiated and passed faster than those in other countries, especially the United Kingdom.
Volcker offered one piece of advice to bolster new rules aimed to end the reign of too-big-to-fail bank by giving regulators better tools to liquidate the big banks.
He said that U.S. banking regulators need to work with U.K. counterparts to hammer out a system for resolving cross-border banking issues when a giant bank fails.