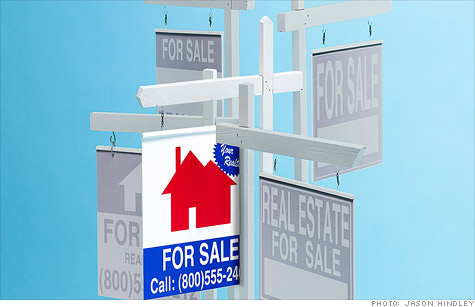 Even as the real estate market perks up, you need a savvy agent to nail the sale. To find one, ask these questions.
(MONEY Magazine) -- After four years of sleepy sales during the traditionally busy spring and summer homebuying seasons, real estate experts are forecasting a pickup.
Record home affordability combined with a stronger economy may bring out bargain-hunting buyers and lure sellers who have been sitting on the sidelines. Already sales this winter were the highest since 2007.
If you're tempted to host or frequent an open house this year, keep in mind that navigating this market is not for the faint of heart. Sellers still face tepid demand in many areas and competition from banks unloading foreclosures and other distressed properties; buyers must grapple with tight credit.
Pairing up with the right real estate agent can help you close the deal at the price you want. To make a good match, gather referrals, check reviews on sites like Zillow, Yelp, and Angie's List, and pose these questions:
For buyers and sellers
How long was your drive over here?
The less time the better. The crash has slimmed the ranks of agents (National Association of Realtors membership is down 26% from 2006); those who are left have more years on the job (a median of 12, up from seven). But not all experience is equal -- you want a realtor with hyperlocal knowledge, if not a home nearby.
"If the agent hasn't closed deals on homes in your neighborhood recently, that could be a red flag," says Ginger Wilcox, head of industry marketing at Trulia.
6 ways to get a great mortgage deal
Your ideal agent should be able to say off the top of her head how long homes in the area have been listed and why they have or haven't sold. If you haven't seen the agent's name on local FOR SALE signs, keep looking.
Can you tell me about your last three deals?
The description of the people and places should sound like you and what you're selling or buying. The marketing approach varies for a million-dollar listing and a fixer-upper. Investors and first-time buyers have different criteria. And when you're scooping up a short sale or foreclosure -- or buying with all cash -- you need an agent who has negotiated with a bank or cleared the legal hurdles before.
For sellers
What's your URL?
Almost 90% of buyers shop online for a home, says the NAR. You want a realtor with his own homepage, as well as detailed and photo-filled listings on major real estate sites (Zillow, Trulia, Realtor.com).
"Photos are really important to buyers," says Dorchester, Mass., realtor Julie Simmons, "and as a seller you want to have as many as you can."
While you're vetting the site, dig deeper. Lots of homes with multiple price cuts could be a sign that the realtor isn't pricing them properly. What you want to see are homes that have been for sale for less than the norm in your area (ask other realtors what's typical).
What's your batting average?
Make sure a realtor is making sales, not just scooping up listings. Ask how many of his homes he closed on last year. There's no one right answer, especially in a slow market, but it's another data point for comparing agents.
Am I crazy to ask this much?
Probably. "In some cases sellers are not going to like what they hear," says Denise Riordan, an agent in Montclair, N.J.
Why it's safe to sell your home again
Don't jump at the highest asking price. Better to get a frank assessment of changes you need to make and a price that would make buyers bite. Then verify by asking to see stats on comparable sales and the methodology behind the estimate.
What is this going to cost me?
The commission, paid by the seller and split by the buyer's and seller's agents, is traditionally 6% of the sale price. With homes sitting on the market for nearly 16 weeks, a listing agent who has to put in four months or more of work may not want to budge. But even now you can get it down to about 5% (your agent will typically still split it fifty-fifty and specify that on the listing). One way to bargain: Use the agent to buy your next home.
For buyers
Can you let me in on any secrets?
The home you'd really like may not be listed -- sellers take homes off the market when buyers are scarce; others don't want to advertise for privacy reasons. The most connected agents know the homes that aren't officially on the market but whose owners would sell, says Steven Berkowitz, CEO of Move Inc. For the most options, find an agent who has the scoop.
Going solo
You'll save plenty, but only 10% of sellers bypassed an agent last year.
The costs of going it on your own include:
MLS listing for six months -- $300
Appraisal for pricing help -- $450
Consultation with stager -- $350
Lawyer to draw up contract -- $550
Versus a 5% commission on a $300,000 home - $7,500
Net savings -- $5,850
Notes: Based on 5% commission; assumes seller pays 2.5% commission to buyer's agent. Sources: NAR, FSBO.com, Stagedhomes.com, MONEY research
Do you know a Money Hero? MONEY magazine is celebrating people, both famous and unsung, who have done extraordinary work to improve others' financial well-being. Nominate your Money Hero.