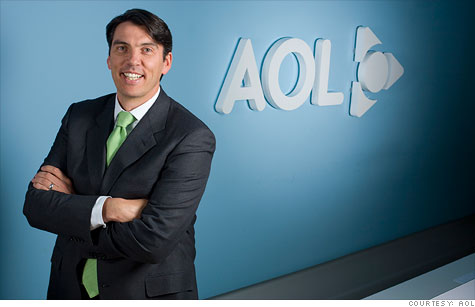 AOL CEO Tim Armstrong says the company's latest financial results show that it's in better shape than it was a year ago.
NEW YORK (CNNMoney) -- AOL will give 100% of the proceeds from its $1 billion patent sale "directly back to shareholders," CEO Tim Armstrong said Wednesday, but the details are still being worked out.
AOL (AOL) announced last month that it had agreed to sell about 925 patents to Microsoft (MSFT, Fortune 500) for $1.1 billion in cash. AOL also granted a non-exclusive license to Microsoft for its remaining patents. A few weeks later, Facebook announced plans to will buy 625 of those patents from Microsoft for $550 million.
"We have not made the final decision," AOL CFO Artie Minson said about AOL's plans for distributing the cash. AOL has already bought back 15 million shares and has to be careful not to "trigger a change in control at the company" by buying more, he said.
Armstrong said he is generally happy with where AOL's balance sheet and cash hoard stand. AOL had nearly $370 million in cash and liquid assets as of March 31.
"At this point, if we had a good reason to hang onto a billion dollars in cash, we'd do it," Armstrong said.
Despite Armstrong's bullishness on the deal, he said the sale "isn't fully reflected in our valuation" in the market right now. AOL shares are up almost 40% since it announced the patent deal.
He also talked up the 300 patents AOL is hanging onto, which relate to its core business, including software technologies related to advertising, search, social networking, mapping, streaming and security. Microsoft and Facebook will each have a non-exclusive license to those remaining patents.
Financials: Even beyond the patent deal, AOL's first quarter came in strong. The company earned 22 cents per share on sales of $529 million.
In a prepared statement, Armstrong said the results show that "AOL is a much stronger company today than it was a year ago."
Overall revenue was down 4% over the first quarter of 2011, but AOL still had solid improvements in some of its ad business. Global ad revenue jumped 5% over the year to about $330 million. The major contributor to that growth was AOL's third-party ad network, in which sales rose 23% year-over-year.
But it wasn't all good news in the ad sector. Sales from AOL's display ads -- which use images and other graphics -- ticked up just 1% over the year to $130 million. That's disappointing growth, considering that AOL has hawked display as one of its main focus areas.
Armstrong said the company's sales strategy "was off tune," and that a proxy fight with activist shareholder firm Starboard Value added "noise" that may have eroded potential customers' confidence in AOL.
Meanwhile, the subscriber base for AOL's dial-up Internet access, a legacy business that still makes up a large part of the company's revenue, continues to decline sharply. Subscription revenue fell 15% over the year to about $182 million. AOL noted that's the lowest rate of decline in five years.
Later in the day, Armstrong addressed rumors that AOL is considering selling the blogs TechCrunch and Engadget.
"False," Armstrong said in an interview with CNN's Poppy Harlow. "We have looked at partnering to expand those brands. We think there is more to leverage."