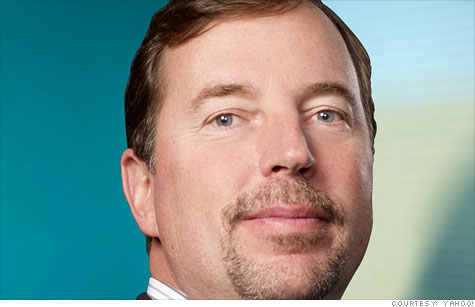 Scott Thompson's resume "error" is raising questions about how thoroughly Yahoo vetted him for the CEO job.
NEW YORK (CNNMoney) -- Shock over the news that Yahoo CEO Scott Thompson padded his resume with an embellished college degree quickly gave way to two questions: How the hell did this happen? And what should Yahoo, which went through three CEOs in three years, do about it?
"Thompson has quickly lost the confidence of many employees, who think he has to go," one senior Yahoo executive told CNN. "A lot of people are saying, 'How can Yahoo let this happen?'"
The scandal ignited late last week when activist shareholder group Third Point alleged that Thompson lied about his college degree.
Thompson's published Yahoo bios -- including the one in the company's latest annual report, a legal document that CEOs must personally swear are truthful -- have claimed that he holds a bachelor's degree in both accounting and computer science from Stonehill College. His degree is actually in accounting only.
Yahoo (YHOO, Fortune 500) called the mistake an "inadvertent error." The board said Tuesday that it has hired outside counsel to conduct a review of the false statement. Soon after, the director who led Yahoo's CEO search committee announced that she would step down at the end of her current term.
One executive recruiter says she's surprised Yahoo let things get to this point.
Hiring a top executive like Thompson usually involves extensive background checks conducted by a specialized search firm, which digs into candidates' credit histories, arrest records, past employment and more.
"I can't remember a search I've ever done in which [education verification] wasn't something we did," says Jane Howze, managing director of The Alexander Group, which has worked with tech giants including Google (GOOG, Fortune 500) and Cisco (CSCO, Fortune 500). "Clearly something went wrong at major points in the process."
Yahoo typically uses the headhunting firm Heidrick & Struggles for its executive searches. A representative of Heidrick & Struggles declined to comment on the company's involvement in Yahoo's latest CEO search. A source with knowledge of the process says Heidrick & Struggles wasn't involved in hiring or vetting Thompson.
Tech blog All Things D reported that Thompson reached out directly to Yahoo's directors to pitch himself for the CEO job. A Yahoo representative did not respond to a request for comment about Thompson's selection process.
Lies in the era of transparency: John Challenger, the CEO of outplacement firm Challenger, Gray & Christmas, isn't convinced that a search firm would have looked into the nuances of a college degree -- he says it's an "exhaustive" process that can't possibly capture everything.
But in any case, he sees Thompson's lie as a silly one.
"Yahoo hired him for what he's done in the past five, 10 years," Challenger says. "It doesn't really matter for someone at this point in his career what he did at 22. He may have felt at some point in his career that he needed an extra something -- and then he couldn't get rid of it."
Those types of "extras" may have gone unnoticed years ago, but those days are gone, thanks to the rise of social media and the Internet.
"The kind of anonymity that used to exist doesn't any longer," Challenger says. "Politicians used to make compromises on their beliefs and it would just disappear. Now they're made into public record. It's the same thing with this situation."
Despite the heightened risk of getting caught, education issues come up "all the time" in candidate search, Howze says. She offered a typical example: Someone did the coursework for a Ph.D. but didn't complete the final dissertation, and still claims the degree.
"It comes down to fudging, being 90% accurate," Howze says. "But many people are of the mind that you can't compartmentalize integrity. Either you're honest or you're not."
Tech industry reacts: Opinions on that point are falling on both sides.
Some say it's silly to handwring over the minor details of a decades-old college degree. Others counter that any lie is unacceptable from a CEO, especially one running a public company.

The Sarbanes-Oxley Act, a 2002 law that stiffened the accountability standards for public firms, takes a stark view on the matter. Both CEOs and CFOs are required to certify that their SEC reports are accurate. Violators face penalties of up to 20 years in prison and fines of up to $5 million.
In the same annual report containing his degree "error," Scott Thompson's signature appears right below this line: "This report does not contain any untrue statement of a material fact."
In a blog post titled "Someone Better Than That," TechCrunch founder Michael Arrington characterized Thompson's actions as a deep insult to both Yahoo employees and the Silicon Valley community at large.
"What's hugely relevant is that a man who's willing to lie about something like that has not only risen to the level of CEO in a famous public company, but that the company is also willing to stand by him when the lie is revealed," Arrington wrote.
On the flip side, Dan Lyons at The Daily Beast penned a defense of Thompson.
"Who cares? Thompson has a degree in accounting, not computer science, but frankly at this point in his career does it really matter what he studied as an undergraduate?," he wrote. "He's qualified to run Yahoo."
Lyons thinks that the furor wouldn't have been so loud if it hadn't involved down-and-out Yahoo. As he put it: "Facebook is a cool kid. So is Apple. Yahoo is the loser kid that nobody likes."
-CNN's Dan Simon contributed to this report.