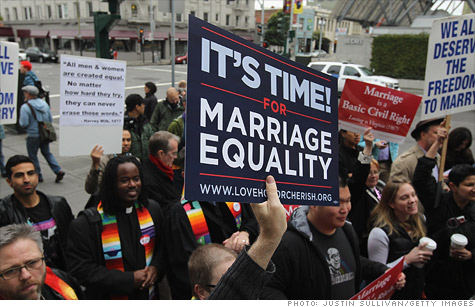 NEW YORK (CNNMoney) -- It's not just an issue of love or even politics: States that legalize gay marriage also experience a significant economic boost.
There are 646,464 same-sex couples in the U.S. but only about 50,000 same-sex couples have married, according to the Williams Institute for Sexual Orientation Law and Public Policy at UCLA.
If more states legalize gay marriage, all of that pent-up demand could trigger a wedding boom, sparking economic activity as more couples book venues, buy wedding cakes, jewelry and marriage licenses, and secure hotel rooms for guests.
Couples spend $27,021 on average on a wedding, according to a survey of gay and straight newlyweds by TheKnot.com. Although same-sex couples generally spend less, that still leaves room for a significant windfall to the $74 billion wedding industry if more couples marry.
Gay marriage is currently legal in seven spots, including Massachusetts, Connecticut, Iowa, Vermont, New Hampshire, New York and D.C.
Already those economies have benefited as a result. "In New York, we saw what legalizing gay marriage could do for a city," said Kristin Koch, TheKnot.com's senior editor. "Weddings mean more business for hotels, wedding venues, caterers, airlines, bakeries, photographers and videographers."
In New York, the city's comptroller's office estimated that the economic impact of marriage equality would add $142 million to New York City's economy from wedding-related purchases and tourism revenue in the three years after its law passed in 2011, and another $184 million in spending to the state's economy.
In Massachusetts, the Williams Institute estimated that marriage equality added $111 million to the state's economy in the first five years after legalizing same-sex marriages in 2004. That's thanks to wedding spending by same-sex couples who live there, in addition to an influx of same-sex couples coming from elsewhere to say "I do."
Other states that give same-sex couples the right to marry will experience a similar boon, said Lee Badgett, the Williams Institute's research director and professor of economics at the University of Massachusetts Amherst.
"There's nothing bad that's going to happen to local economies; in fact, there's a positive business effect," Badgett said.
President Obama's support of marriage equality for same-sex couples could spur more states to allow gay couples to legally marry and the eventual repeal of the Defense of Marriage Act, a 1996 federal law that reserves marriage for a man and a woman.
If same-sex marriage rights were granted nationwide, same-sex weddings would generate a net $1 billion each year for the Federal budget over the next 10 years, according to a 2004 report by Congressional Budget Office. That's after taking into account lower income and estate tax revenues as well as increased spending for health-care benefits and Social Security.