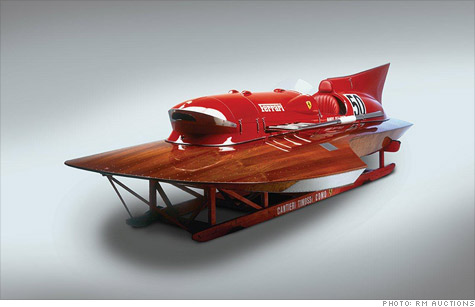 The Timossi-Ferrari Arno XI speed boat, which sold at auction for $1.1 million, set a world speed record in 1953.
NEW YORK (CNNMoney) -- A 600-horsepower 1953 Ferrari-powered speedboat sold for $1.1 million Saturday at an auction in Monaco.
The Timossi-Ferrari Arno XI Racing Hydroplane set a world speed record for its class in 1953, going 150 miles per hour. The boat was sold by the classic car auction firm RM Auctions.
The engine used in this boat was the same type that had been used in Ferrari's Grand Prix race cars, including a car that won the first World Championship Grand Prix in 1951.
For this boat, the engine was modified to run on methanol, which allowed for much higher compression and more power. Twin superchargers were also added, all of which raised its horsepower to 600 from the original 385.
The boat has a solid wood frame with an outer skin of mahogany, and a strong metal subframe.
The boat was designed by speedboat racer Achille Castoldi, who piloted the world record run on Italy's Lake Iseo.