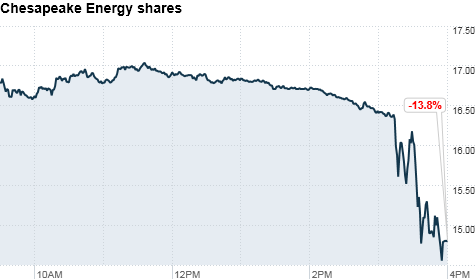 Click the chart for more info on Chesapeake shares.
NEW YORK (CNNMoney) -- Shares of Chesapeake Energy plunged late Friday after the heavily indebted firm revealed that it may be forced to delay some asset sales.
In a filing with the Securities and Exchange Commission, Chesapeake (CHK, Fortune 500) said it may have to postpone some previously planned sales of assets, such as oil and gas wells, because they are used to secure its revolving credit line.
Such sales are seen as critical for the company. Chesapeake has been hurt by falling natural gas prices and currently has $12.6 billion in long-term debt.
It hopes to sell as much as $14 billion in assets this year to help pay down this sum, but may be limited in its ability to do so by the terms of its revolving credit line.
Chesapeake also said it has yet to finalize this year's planned asset sales, and may be forced to choose alternative properties to sell if its original plans are hamstrung by the terms of its credit line.
"There are so many uncertainties around the company's funding in 2012," said Mark Hanson, an equity analyst with Morningstar.
Chesapeake shares were down 14% at the end of trading on Friday.
The company, America's second-largest natural gas producer, has been roiled by controversy in recent weeks following revelations that CEO Aubrey McClendon has taken out more than $1 billion in loans backed by personal stakes in the firm's wells.
Reuters has also reported that McClendon ran a $200 million hedge fund that traded in the same commodities that Chesapeake produces, raising further questions about a conflict of interest. McClendon remains as CEO at the company but has been removed as chairman in response to the controversy.
Shares are down almost 30% in the past month.