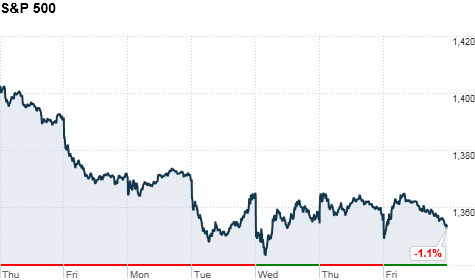 Click chart for more data.
NEW YORK (CNNMoney) -- What's the market watching next week? Well there's this social network called Facebook that was started in a Harvard dorm room. Ahead of what's expected to be the biggest technology IPO ever, Facebook's executive team is planning to ring the Nasdaq's opening bell Friday morning.
Many analysts and traders bet that Facebook's IPO could spark a bit of jubilation next week among investors -- despite pesky problems in Europe that won't seem to go away, and worries over whether a bank like JPMorgan can still threaten the financial system.
All three indexes closed the week down, after fears about Europe offered reasons for investors to sell. The Dow (INDU) fell 1.7%, the S&P 500 (SPX) lost 1.2% and the Nasdaq (COMP) declined 0.7%.
JPMorgan's (JPM, Fortune 500) disclosure that a surprise $2 billion loss resulted from a bad trade didn't help matters.
Next week, investors will continue to monitor political maneuverings among Greece's political parties and what comes out of a meeting of Eurozone finance ministers Tuesday. The finance ministers are expected to discuss the situation in Greece and in Spain's troubled banking sector.
After last weekend's elections in Greece yielded political chaos there, global investors are worried that instability could jeopardize Greece's bailout agreement and its place in the eurozone.
Investors will also be monitoring the auctions of Italian bonds Monday and Spanish bonds Thursday to see whether there's an appetite to buy this European debt or whether yields could continue to rise.
Tuesday, markets will get a glimpse of how much the eurozone economy may have shrunk recently. After falling 0.3% in the fourth quarter last year, economists predict the first quarter of 2012 will see a slip of 0.2%.
In the U.S., investors will have a raft of economic data to parse through next week too. The results are expected to be a mixed bag.
Tuesday, readings on U.S. inflation and April retail sales will be released. IHG Global Insight's U.S. economists expect inflation could tick down because of a dip in gasoline prices, and sales to "hit a minor pothole."
Industrial production numbers, due to be released Wednesday, should show a rebound and housing starts could point to an uptick in the home market, according to IHS.
Also Wednesday, the Federal Reserve will release minutes from its most recent meeting in late April. It's already known that support for another round of bond buying has been easing, but some economists think these minutes could explain what might make the Fed members change their minds.
On the earnings front, troubled social media company Groupon (GRPN) will release results Monday after the bell. Investors are increasingly wary about the viability of the web coupon firm.
Otherwise, it will be a relatively light earnings week, with mostly retailers reporting. Tuesday, Saks (SKS) reports ahead of the bell, and J.C. Penney (JCP, Fortune 500) goes after the close.
On Wednesday, Staples (SPLS, Fortune 500), Target (TGT, Fortune 500), and Abercrombie & Fitch (ANF) report in the morning. On Thursday, it's Wal-Mart (WMT, Fortune 500), Williams-Sonoma (WSM), and Sears (SHLD, Fortune 500).
On Friday of course, all eyes will be on the Nasdaq when trading in Facebook stock is expected to kick off. Many investors will try to get Facebook shares, but don't get too excited: According to some reports, Facebook's initial public offering is already oversubscribed.