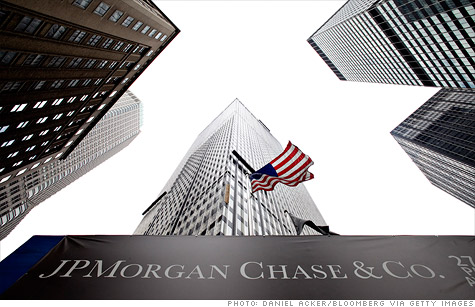 JPMorgan Chase's blunder raises questions about whether the big banks are just too big.
WASHINGTON (CNNMoney) -- JPMorgan Chase's $2 billion hedging blunder is adding fuel to those who think the megabanks are just too big.
JPMorgan Chase (JPM, Fortune 500) is in no danger of failing, thanks to much larger capital cushions mandated by the Dodd-Frank Act. But its mistake could have outsized repercussions in the global financial system, due to the sheer size of megabanks and the inter-connectedness of the global financial system.
On Friday, stocks of all the big banks -- including Morgan Stanley (MS, Fortune 500), Citigroup (C, Fortune 500) and Goldman Sachs (GS, Fortune 500) -- were lower, as the JPMorgan Chase news undermined investor confidence in other Wall Street firms. U.K. regulators are reportedly looking into trades that transpired at the bank's London office.
"It does make you wonder -- this is one of the best managed banks in the country. What's going on at these other institutions?" said Sheila Bair, former chief of the Federal Deposit Insurance Corp., in an interview with CNN's Your Money to air Saturday. "Are they just too big to manage, even with very good managers?"
Economist Simon Johnson said the JPMorgan Chase episode highlights why U.S. regulators need to shrink big banks. He said the banks are so big and their trades are so complicated that even the Federal Reserve had no idea when it completed recent stress tests that JPMorgan could be facing these kinds of losses.
"Such banks have become too large and complex for management to control what is going on," Johnson wrote on his blog, Baseline Scenario. "The regulators also have no idea about what is going on. Attempts to oversee these banks in a sophisticated and nuanced way are not working."
Shrinking the Wall Street banks is also a controversial goal of FDIC director Thomas Hoenig.
In a Senate Banking hearing on Wednesday, Hoenig said that while he's not in favor of an "arbitrary size limit" on the big banks, he wants to go back to a system in which commercial banks' banking activities are separated from Wall Street trades. He'd prohibit even market-making at banks, which is currently allowed by the Volcker Rule.
"Let's take these high-risk activities and move them out in to the market," Hoenig said.
Jaret Seiberg, a Washington policy analyst at Guggenheim Securities, said the JPMorgan blunder increases the possibility that some in Congress may try to separate commercial banking from trading operations. But he still thinks it's unlikely Congress actually goes through with it.
On Friday, liberal lawmakers who have maintained the megabanks are too big issued statements saying the JP Morgan losses illustrate why the banks should be broken up entirely.
"The debacle at JPMorgan Chase reaffirms my view that the largest six banks in this country, including JPMorgan Chase, which have assets equivalent to two-thirds of our GDP, must be broken up," said Sen. Bernie Sanders, a Vermont independent.