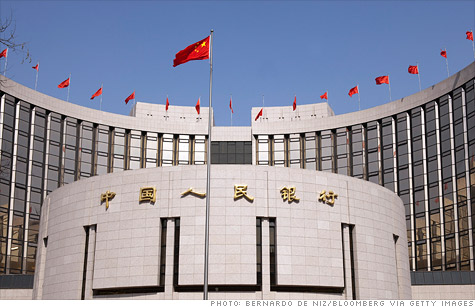 NEW YORK (CNNMoney) -- China's central bank took further action Saturday to stimulate its economy.
The People's Bank of China is cutting the amount of money banks are required to hold on the sidelines, freeing up those funds instead to boost investment and growth.
The central bank will lower its reserve requirement ratio for financial institutions by 0.5 percentage points, effective May 18, according to China's official news agency Xinhua.
The move comes as manufacturing in China has contracted recently and growth in industrial production has started to slow in nearly all sectors.
China's trade with foreign countries has also slowed recently, feeling the impact of Europe's woes and the U.S. economy's sluggish growth.
"The move was partly expected given the deterioration in recent Chinese economic indicators," said Societe Generale currency analyst Sebastien Galy.
Overall, economic growth decelerated in the first quarter, and the People's Bank of China wants to prevent that slowdown from persisting.
The central bank has focused on freeing up credit by gradually injecting funds into the money supply and cutting reserve requirements for banks.
The central bank's announcement marks the third cut in the reserve requirement since November.