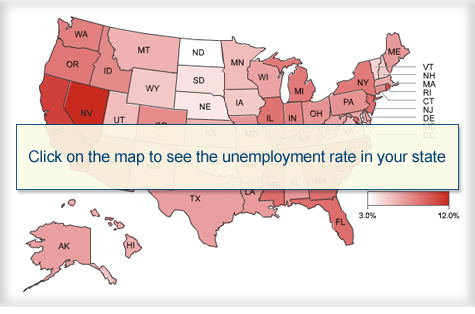 NEW YORK (CNNMoney) -- More than 200,000 long-term jobless Americans will lose their unemployment checks this week, when eight states roll off the federal extended benefits program.
Nearly half of them live in California, and the rest reside in Florida, Illinois, North Carolina, Colorado, Connecticut, Pennsylvania and Texas.
The federal extended benefits program has provided the jobless with up to 20 weeks of unemployment checks after they've run through their state and their federal emergency benefits, which together last up to 79 weeks.
But the extended benefits program is expiring throughout the country as the economy improves. To be eligible for these benefits, a state must show that its unemployment rate is at least 10% higher than it was in at least one of the past three years.
State unemployment rates have been falling as the jobless find new positions or exit the workforce. For instance, Nevada has the highest state unemployment rate at 12%, but it's still below the 14% it logged in October 2010.
Already, 25 states have rolled off the extended benefits program, with 15 of them exiting last month alone. But more unemployed folks will be affected by this week's cessation than April's, when about 135,000 people saw their payments end.
By the beginning of September, the benefits will disappear in another seven states, leaving Alaska as the sole place to offer it.
The jobless have been able to collect up to 99 weeks of benefits for much of the Great Recession and its aftermath. But after multiple extensions, Congress in February passed a law that starts phasing out this unprecedented lifeline.
Starting later this year, the maximum number of weeks the jobless can collect unemployment benefits will be reduced to as little as 40 weeks in states with jobless rates below 6% and to as many as 73 weeks where unemployment tops 9%.
The issue of supporting the long-term unemployed, who number 5.1 million or 41% of the jobless, has split policy makers and economists. Some argue that these costly benefits need to end to spur people to find work. But others say the economy is still too weak to roll up the safety net.
"The hundreds of thousands of long-term unemployed who are being abruptly pushed off the extended benefits program are just the latest wave of jobless workers forced to survive without basic financial protections," said George Wentworth, senior staff attorney at the National Employment Law Project, an advocacy group.
Attention Class of 2012: Did you land a job in your field or are you working a retail job? Do you have an internship or are you unemployed? We are looking to profile several brand-new grads and learn their post-commencement plans. To participate, send an email to realstories@cnnmoney.com. Please include a contact phone number.