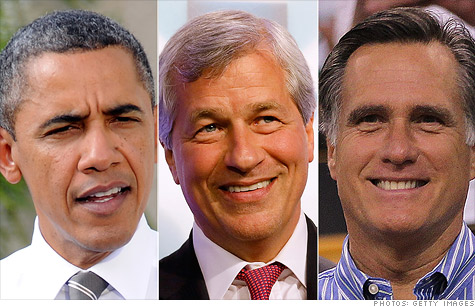 President Obama and Mitt Romney have very different ideas about financial regulation.
NEW YORK (CNNMoney) -- Wall Street reform has not been a huge topic on the campaign trail thus far, largely because every Republican candidate agreed that the financial regulations enshrined in Dodd-Frank should be repealed.
But as Mitt Romney and President Barack Obama begin the general election campaign in earnest, the issue of how best to prevent another financial crisis has the potential to move to the fore of the political discussion.
Any movement in that direction was accelerated Thursday as JPMorgan Chase (JPM, Fortune 500), thought to be one of the soundest banks in the country, revealed that it had suffered trading losses of $2 billion.
The source of the loss, CEO Jamie Dimon revealed, was a series of massive bets placed by the bank via credit default swaps, the same class of derivatives that wrecked havoc in 2008.
Almost immediately, advocates for more government regulation of banks cited the trades as evidence that JPMorgan was making an end-around the Volcker Rule.
That rule, a part of the Dodd-Frank Wall Street reform law passed in response to the financial crisis, aims to ban risky trading by banks for their own profit, sometimes referred to as proprietary trading.
The rule has not yet been implemented, and banks have spent millions of dollars lobbying against it, which they view as cumbersome and excessive.
The lobbying battle has largely pitted Republicans against Democrats, and now, the behind-the-scenes action may well move onto the campaign trail.
On Saturday, Massachusetts Democratic Senate candidate Elizabeth Warren pointed out that Dimon also is a board member of the New York Fed, where he advises on oversight of the financial industry. Warren, founder of the Consumer Financial Protection Bureau, said Dimon should resign from his post at the New York Fed to "send a signal" that Wall Street understands more accountability is needed.
Meanwhile, the Obama campaign was strangely silent during the day on Friday, but hit back after the market closed, saying that eliminating Dodd-Frank would be "reckless."
Responding to the JPMorgan episode, the Romney campaign said in a statement that it "demonstrates the importance of oversight and transparency in the derivatives market."
Romney has been very critical of Dodd-Frank throughout the campaign, arguing that it represents a heavy-handed approach that gives extraordinary power "to the same agencies that had failed to prevent the financial crisis."
He has made clear that he would repeal the law, although his position on what should replace it is less clear. In his official campaign literature, Romney says that some Dodd-Frank provisions have merit.
"Greater transparency for inter-bank relationships, enhanced capital requirements, and provisions to address new forms of complex financial transactions are all necessary elements of effective financial reform," Romney said.
Asked for more detail about the candidate's plans for replacing Dodd-Frank, a Romney official pointed to examples of his calls for the regulation of "liar loans" and subprime mortgages.
It's not clear what Romney would do about other areas of policy that were dramatically altered by Dodd-Frank, an extremely complex piece of legislation that addressed the regulation of non-bank financial institutions, created a mechanism for winding down large firms that fail, and reorganized the regulatory agencies.
The lack of details may prove to be a positive for Romney. Should Wall Street regulation become a major campaign issue, he will largely be able to fill in the gaps as issues arise.
The approach of the Obama administration, which touts Dodd-Frank as one of its signature policy accomplishments, is more clear, and inflexible.
Obama is likely to argue that a return to pre-crisis law is unacceptable, and any move to repeal Dodd-Frank would endanger hard-won reforms that are the only protections against another financial crisis.
"The law promotes transparency, limits the types of risky investments that can be made with deposits insured by federal taxpayers, and prevents investment losses at one bank from threatening the whole financial system," Obama campaign spokeswoman Lis Smith said in a statement.